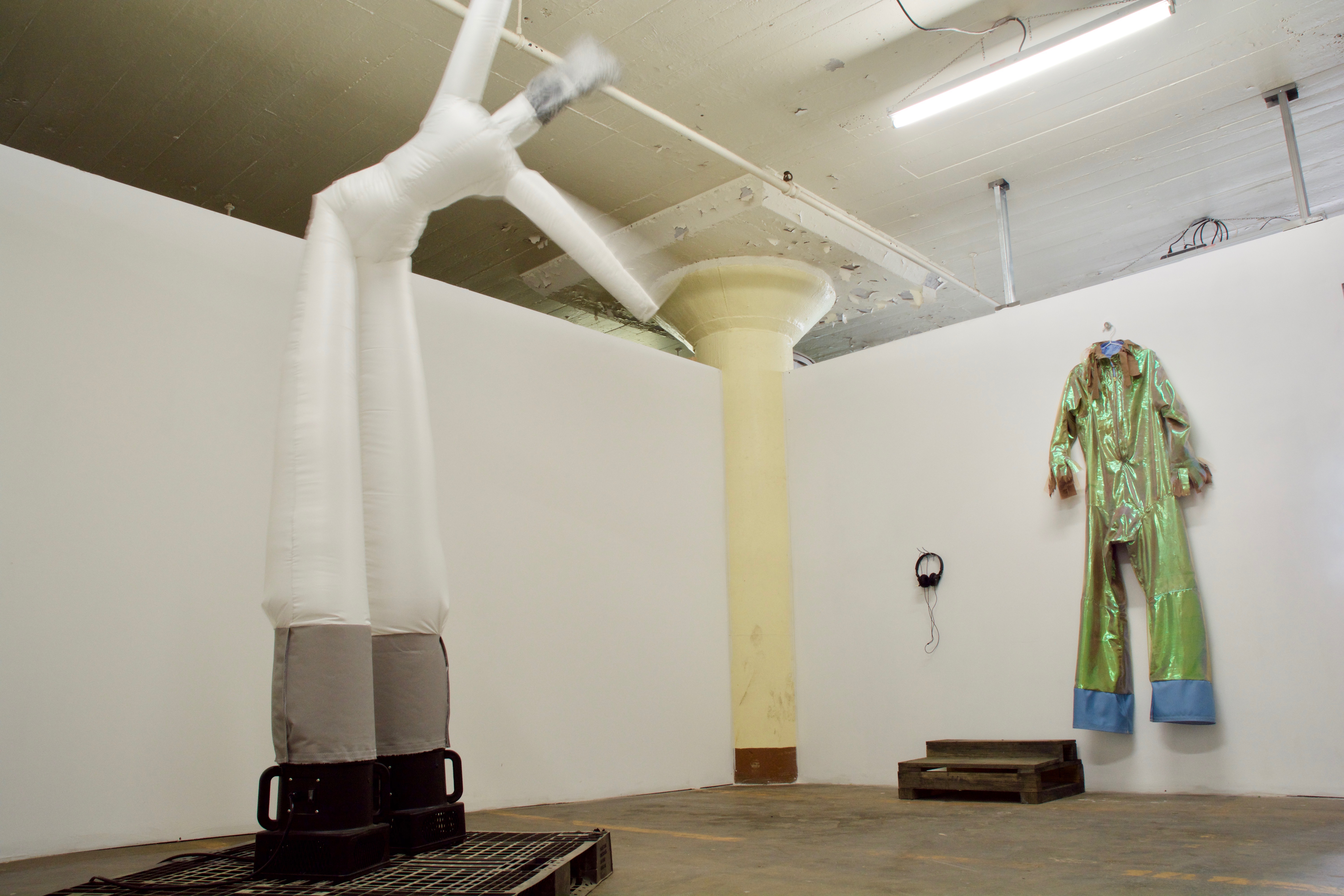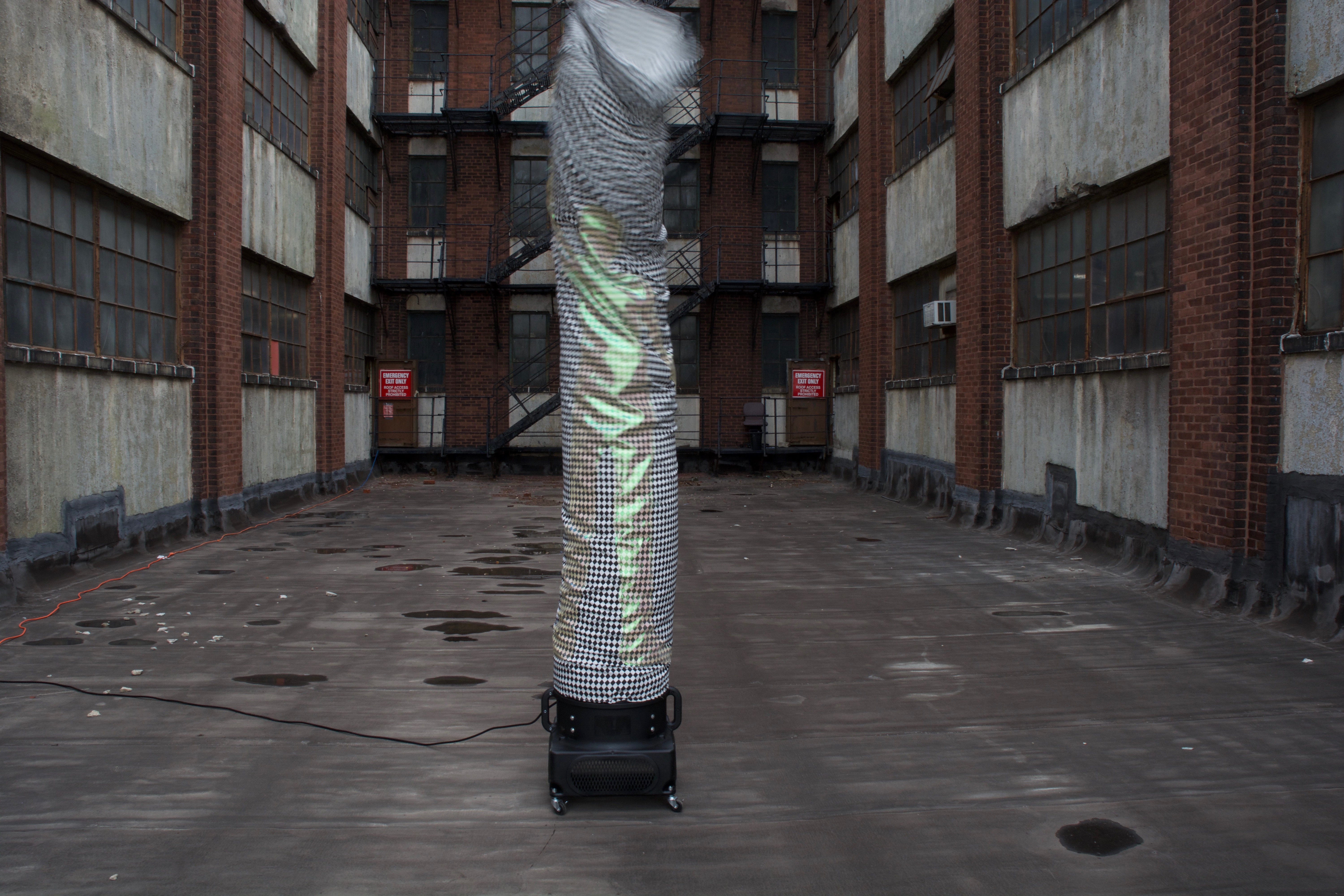 Installation images by Abhalter Smith & Alves


Flatland, Chicago, 2019
Inflatable sculpture in a defunct garment factory — and an obsession with trying to make the two-legged dance.
A collaboration illustrating the work manifesto and personality of the air dancer and it's role in capitalist structure.

video of studio process, 2019, Abhalter Smith

Chris Reeves: Hey you two! I think you could be paired up for a show at
Flatland
.
(...) That I might know two different artists making work about the air dancer seemed too good an opportunity not to mine. I'm interested both in how your respective approaches to the air dancer's infinite performance might transform or complement the possible unforeseen ideas in your collaboration.
Kristin Abhalter Smith: Chris tells me you are into the air-dancer...what is your current relationship with them and what are you interested in exploring?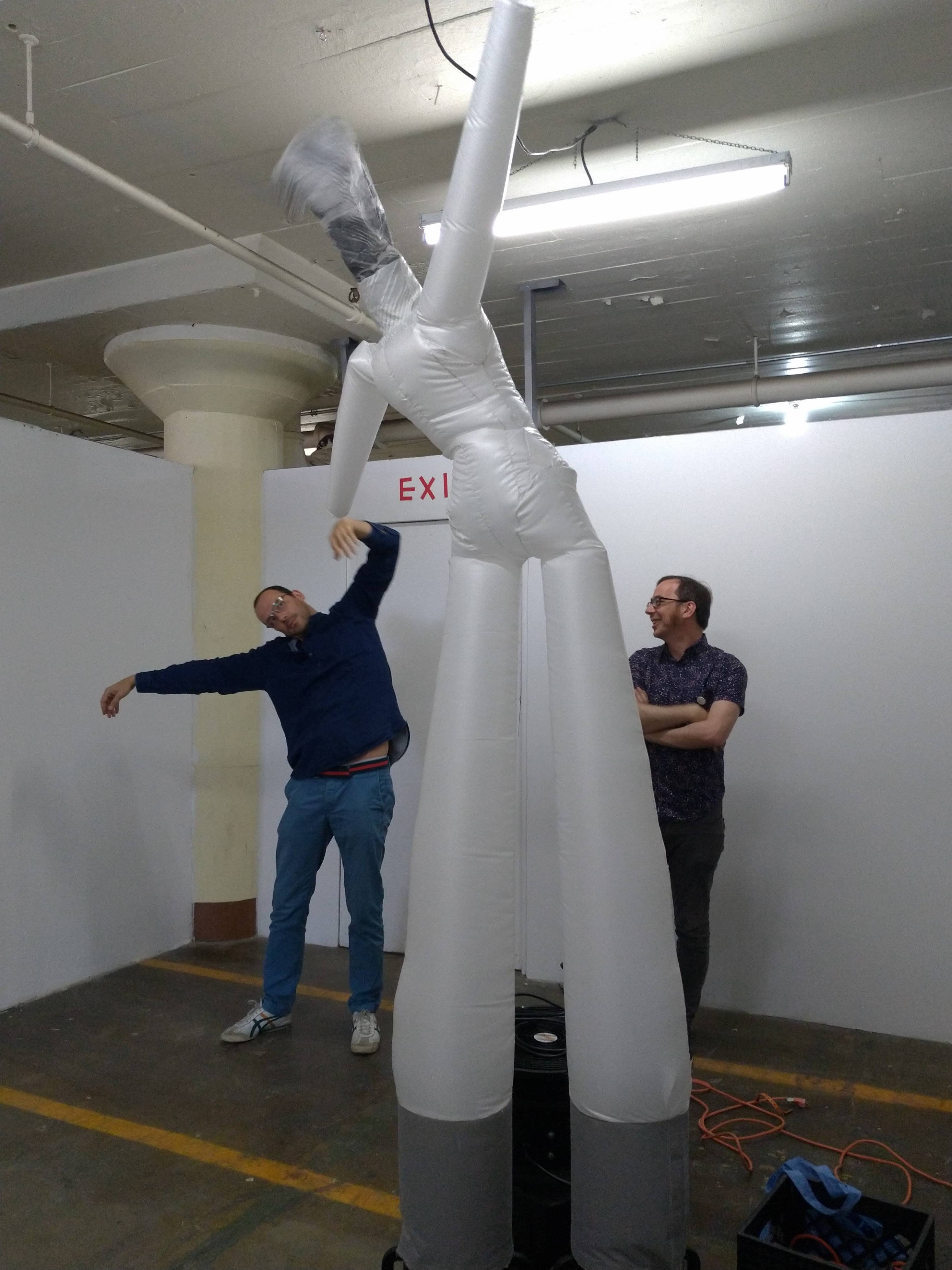 Two-legged air dancer by Abhalter Smith -
Click for video
André Alves: For me, the air dancer has the perfect qualities of the worker desired by the market: never tired, always happy, self-sufficient. And so, I've started to make works playing with the figure of the air-dancer as impossible image.
Site-specific image from Flatland Speigel Factory environs by
André
Alves
Installation view of air dancer suit made to fit André by Abhalter Smith
Kristin Abhalter Smith: I am also interested in the tragic aspect of the air dancer. I have always been drawn to them because of their duality and how they seem to exist in this place of turmoil and whenever I encounter them 'in the wild' I am laughing and crying at the same time, since their inane comedy seems to enhance the sad nature of their surroundings.
Outline of a human in gold on an air dancer by Abhalter Smith
André Alves: I'm looking forward for the dialogue that we can come up together around this. How we can develop an exhibition which translates the dialogue we are having, and the spatial exploration we are making around Flatland, outgrowing the art space, spreading to the factory as physical and symbolic site of our intervention.
Kristin Abhalter Smith:
These sculptures are the ultimate wind bags, and I think of them as characters in a visual opera. Through movement, they embody and emit the wildest range of emotions and I am excited about the ways spectators become participants in the emotional journey.
Interaction with the air-dancer suit during installation
With Fábrica I am experimenting with shapes and evaluating the ways in which the air dancer and the human body are similar and what shapes are most animate. I am having fun wearing the glasses of André's research considering the body of the worker while crafting these bodies through modeling, patterning, and multiple interpretations of figurative representation.
Interaction with the air-dancer suit during installation
I try to make room for as much joy in the process as in the product. It will be exciting to see how Andrés text, sound, and layers of thought expressions further contextualize the air dancer and bend the narrative of the shapes.