Anything Can Be a Dragon, Anything Can Be A Snake - NEIU Gallery, Chicago
Two person show with Kristin McWarther
LINK TO VIDEO
Anything Can Be A Dragon, Anything Can Be A Snake deals with the perception of consciousness, the potential for connection, and the inevitability of distortion. We revere the dynamic forces behind our experience of wind, sound, and light — and struggle with the illusion of control we seek as human beings. This emerges as a celebratory swell of energy sweeping us in a common direction. This two-person show is the first time Kristin Abhalter Smith and Kristin McWharter have worked together. As we explore the emergent possibilities of this collaboration we conjure the phenomena of ignition, provocation, synchronization, and the powerful forces that cause us to move together.
We Are Gold Together, Terrain Biennial, 2019
We Are Gold Together, Colvin House, 2019
We Are Gold Together
Air Dancers — Dancing together — At Last
Irridecent polyester over windproof ripstop nylon, industrial fans, cords, electricity 2019
Created for the Terrain Biennial and shown at the Oak Park and Evanston Block Parties, curated by Jeff Robinson. Since then, they have been shown at Roman Susan Art and Colvin House.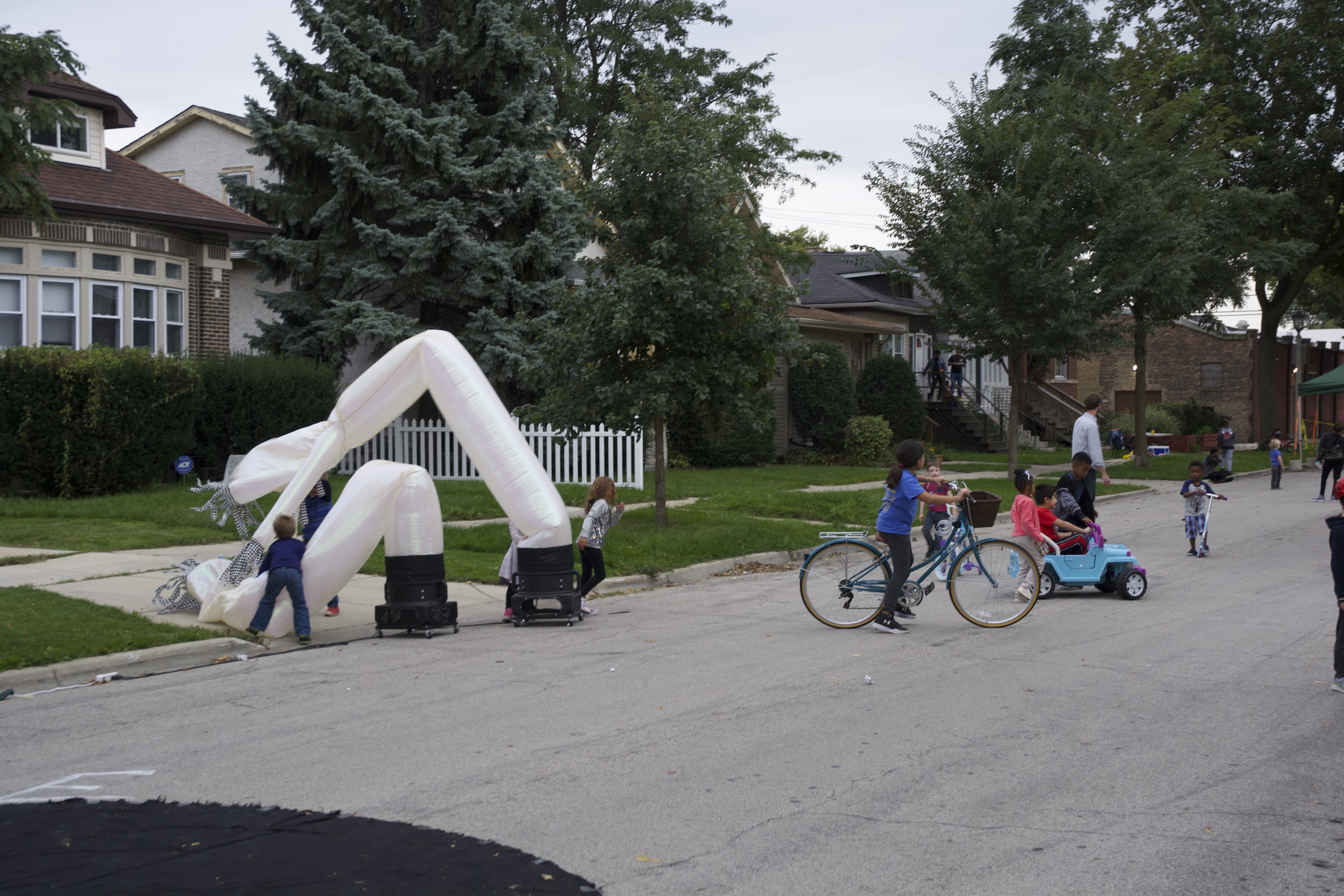 Terrain Biennial, 2019, Oak Park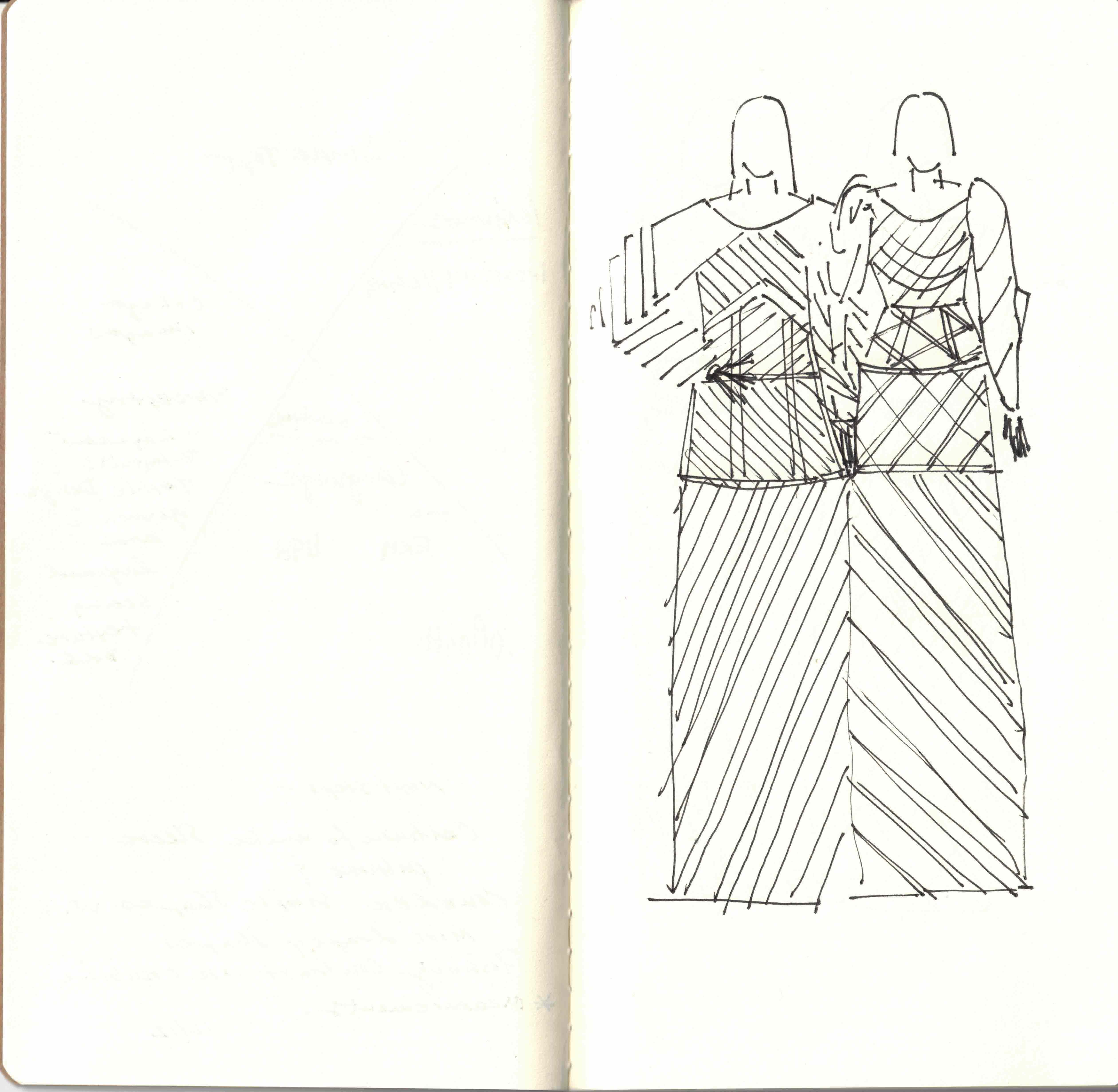 Grunt Work
with Vida Sačić, Art In Place, Terrain, 2020, Chicago, IL

As spaces of sanctuary shrink and intimate connections are made with utmost discretion, we celebrate the power of the body as canvas and its capacity to reveal, inform, and disclose the poetic and the political. Vida Sačić prints words translated from Croatian folktales and personal journals on garments and pattern pieces constructed out of nylon translucent fabric by Kristin Abhalter Smith. These performative objects reflect an ongoing collaboration responding to relationship, identity, power and strength.







Grunt Work
inflatable dress, installation documentation, printed nylon and thread
dimensions variable up to 72 inches, 2019-2020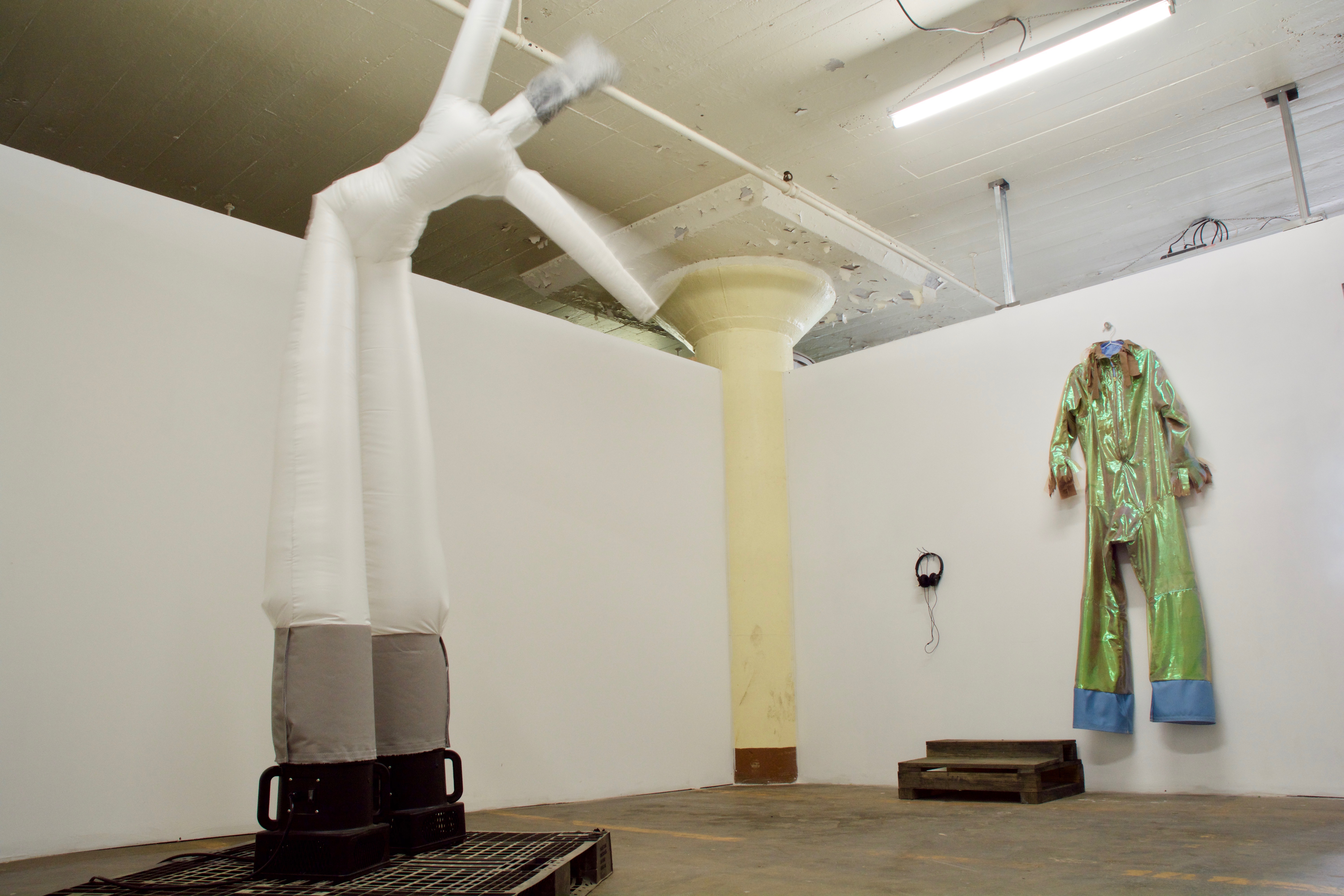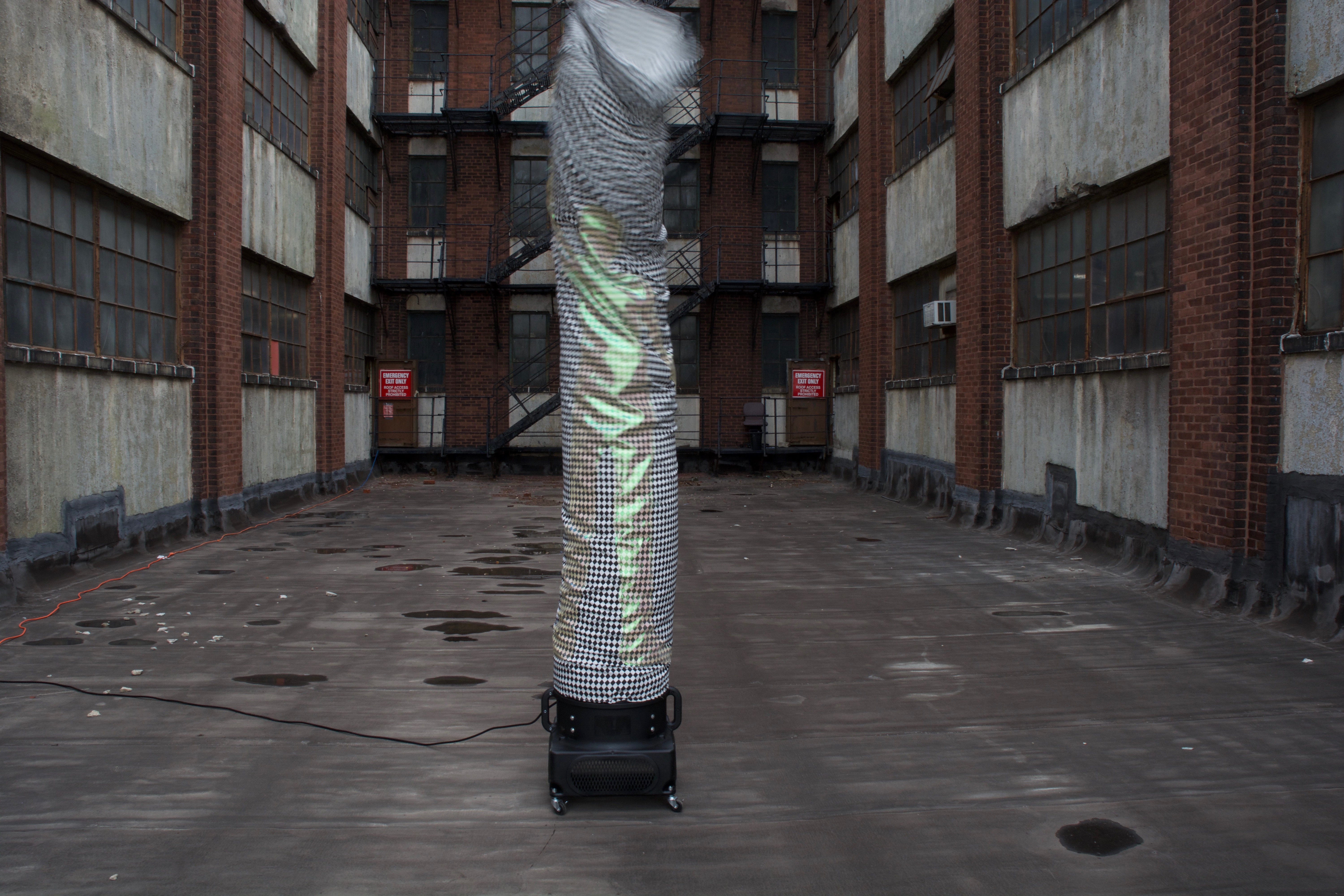 Fábrica
with André Alves, Flatland, Chicago, 2019
Inflatable sculpture in a defunct garment factory — and an obsession with trying to make the two-legged dance. A collaboration illustrating the work manifesto and personality of the air dancer and it's role in capitalist structure.
Chris Reeves: Hey you two! I think you could be paired up for a show at
Flatland
.
(...) That I might know two different artists making work about the air dancer seemed too good an opportunity not to mine. I'm interested both in how your respective approaches to the air dancer's infinite performance might transform or complement the possible unforeseen ideas in your collaboration.
Kristin Abhalter Smith: Chris tells me you are into the air-dancer...what is your current relationship with them and what are you interested in exploring?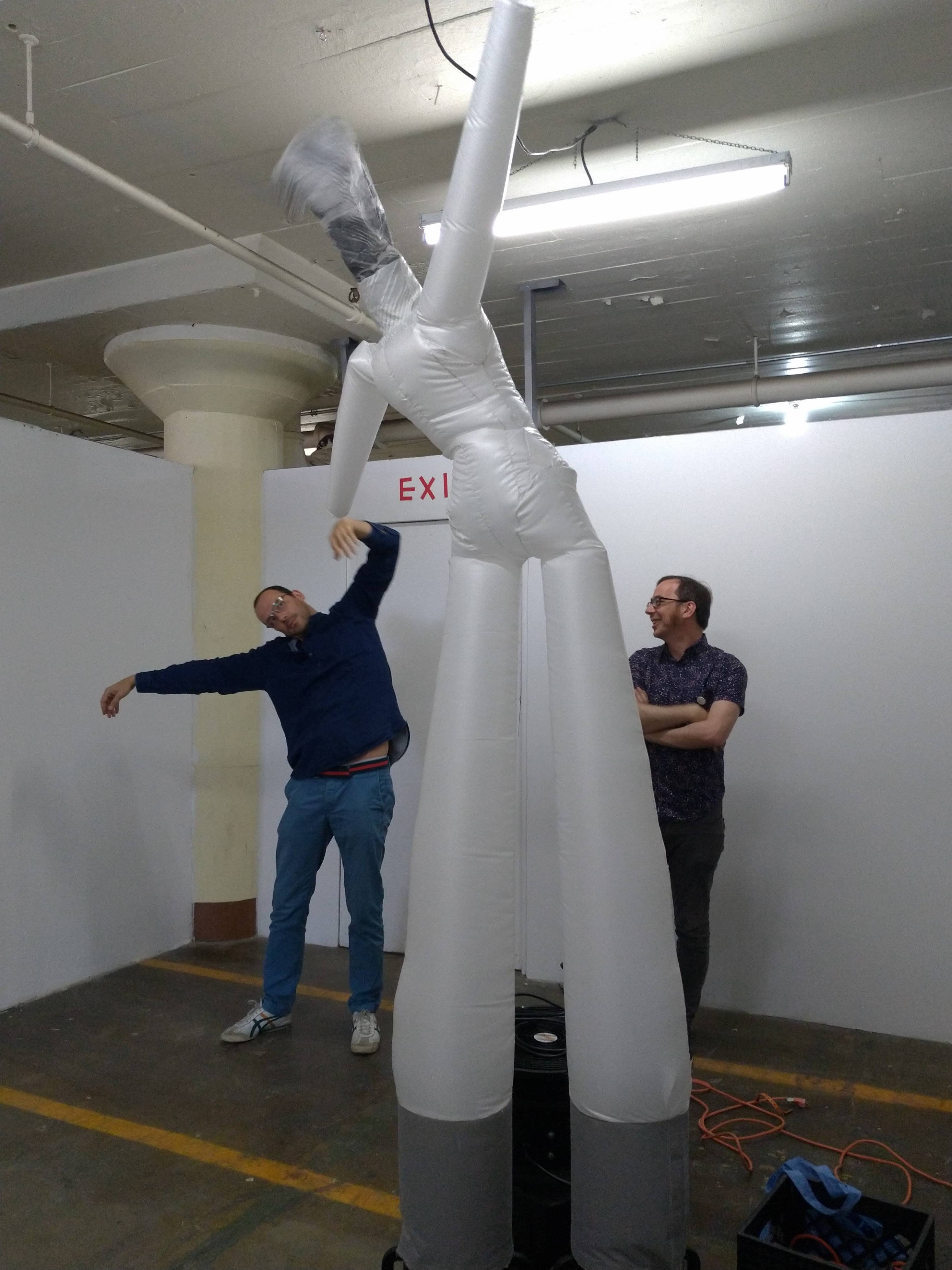 Two-legged air dancer by Abhalter Smith -
Click for video
André Alves: For me, the air dancer has the perfect qualities of the worker desired by the market: never tired, always happy, self-sufficient. And so, I've started to make works playing with the figure of the air-dancer as impossible image.
Site-specific image from Flatland Speigel Factory environs by
André
Alves
Installation view of air dancer suit made to fit André by Abhalter Smith
Kristin Abhalter Smith: I am also interested in the tragic aspect of the air dancer. I have always been drawn to them because of their duality and how they seem to exist in this place of turmoil and whenever I encounter them 'in the wild' I am laughing and crying at the same time, since their inane comedy seems to enhance the sad nature of their surroundings.
Outline of a human in gold on an air dancer by Abhalter Smith
André Alves: I'm looking forward for the dialogue that we can come up together around this. How we can develop an exhibition which translates the dialogue we are having, and the spatial exploration we are making around Flatland, outgrowing the art space, spreading to the factory as physical and symbolic site of our intervention.
Kristin Abhalter Smith:
These sculptures are the ultimate wind bags, and I think of them as characters in a visual opera. Through movement, they embody and emit the wildest range of emotions and I am excited about the ways spectators become participants in the emotional journey.
Interaction with the air-dancer suit during installation
With Fábrica I am experimenting with shapes and evaluating the ways in which the air dancer and the human body are similar and what shapes are most animate. I am having fun wearing the glasses of André's research considering the body of the worker while crafting these bodies through modeling, patterning, and multiple interpretations of figurative representation.
Interaction with the air-dancer suit during installation
I try to make room for as much joy in the process as in the product. It will be exciting to see how Andrés text, sound, and layers of thought expressions further contextualize the air dancer and bend the narrative of the shapes.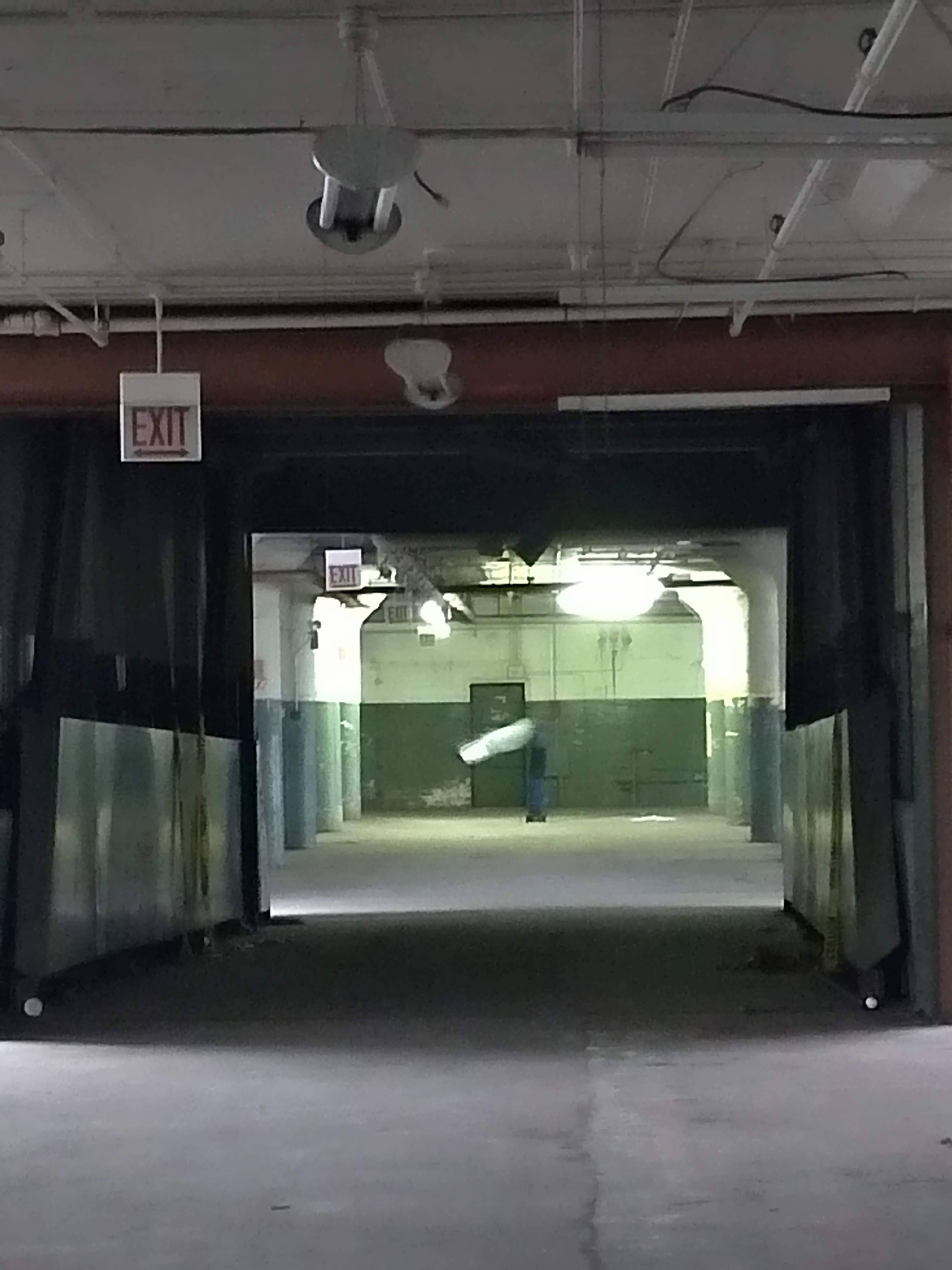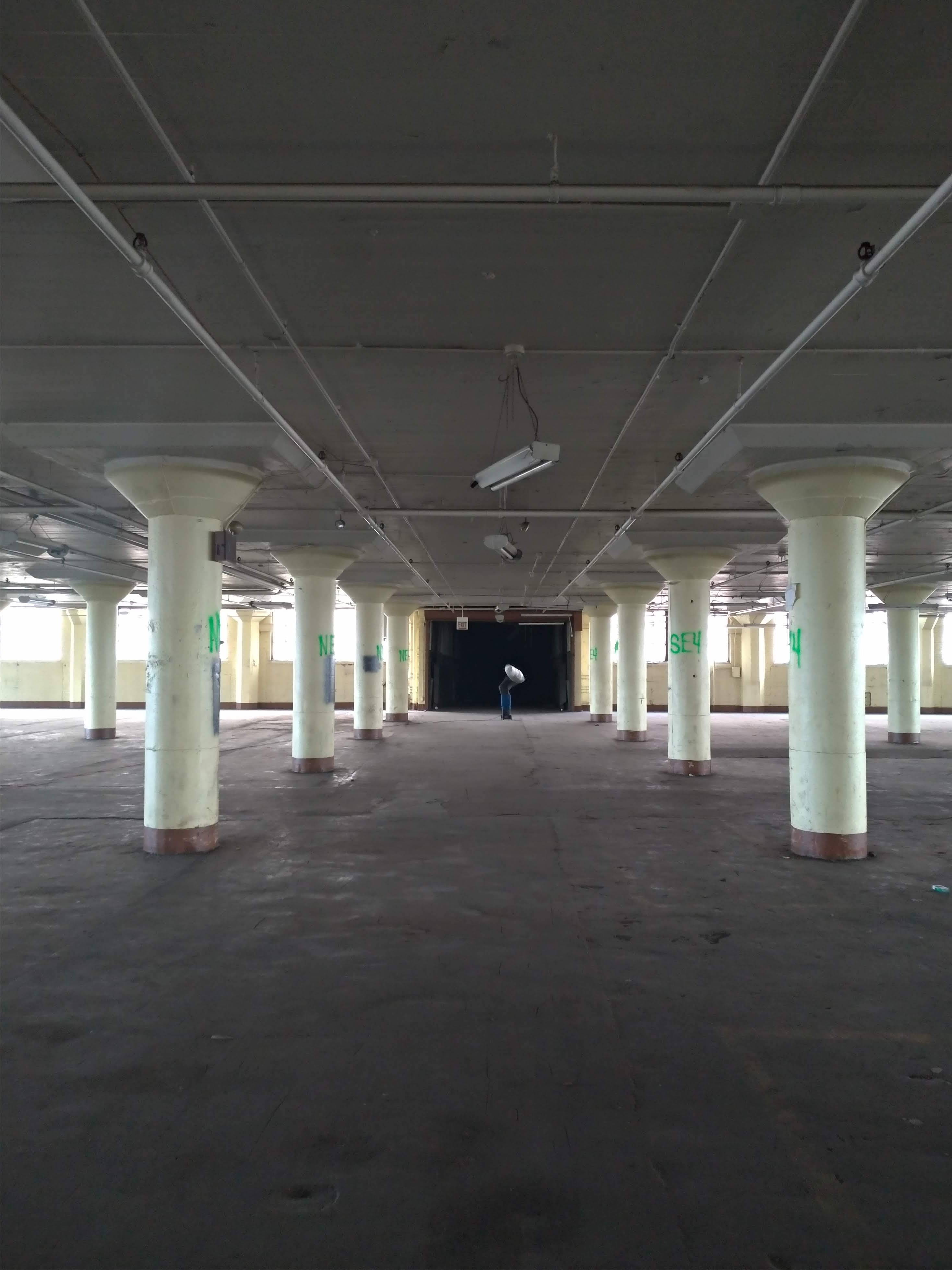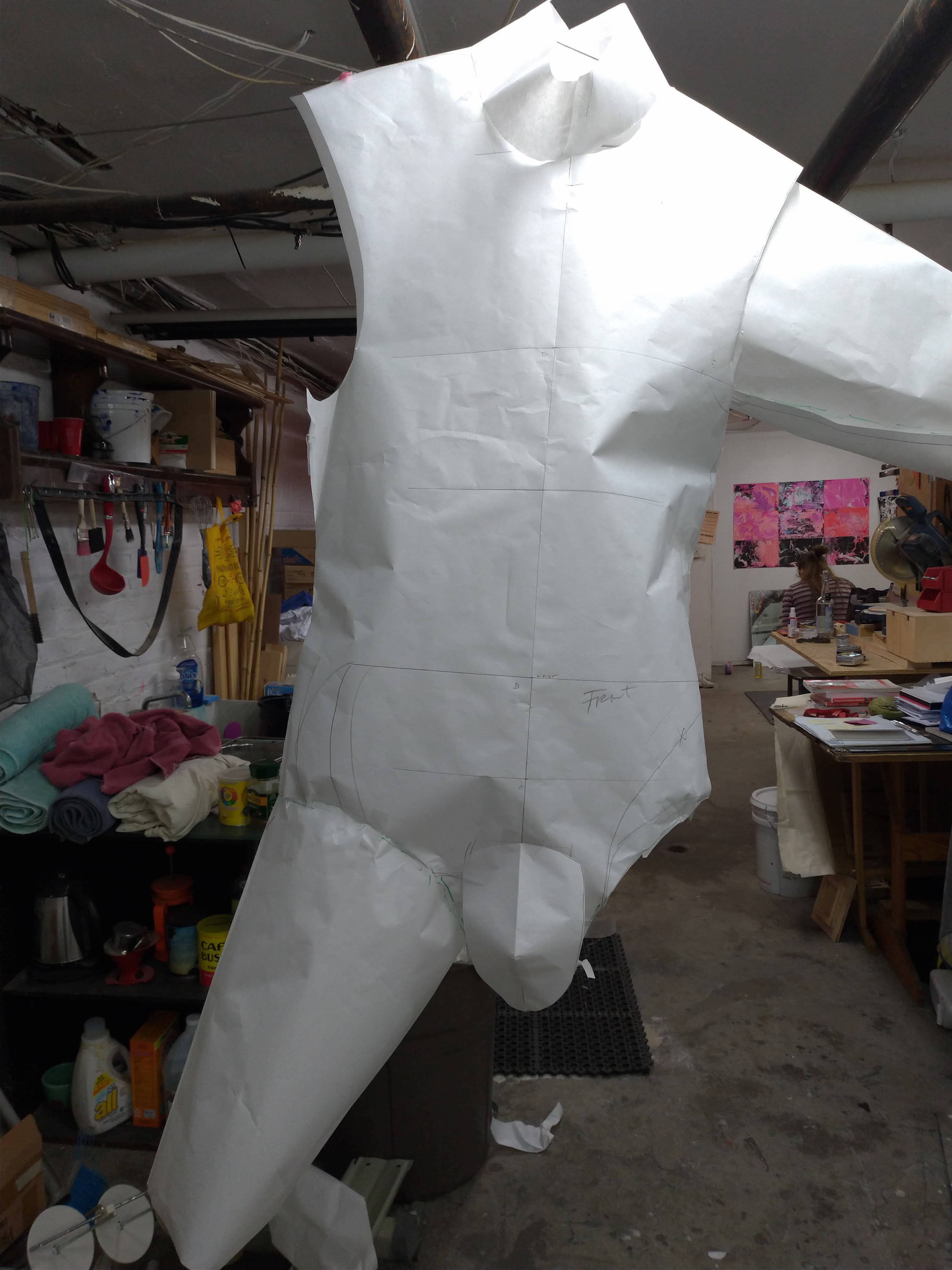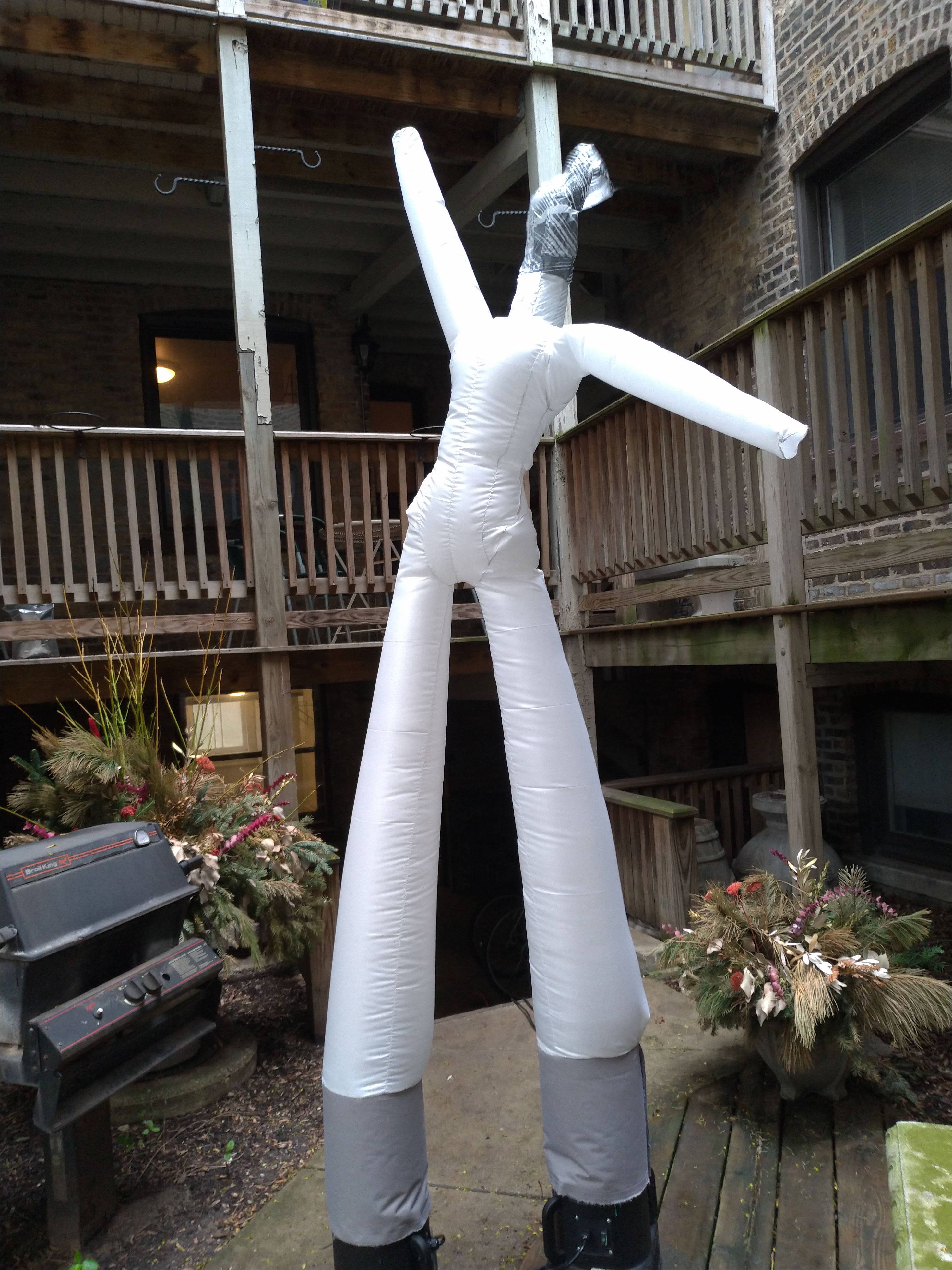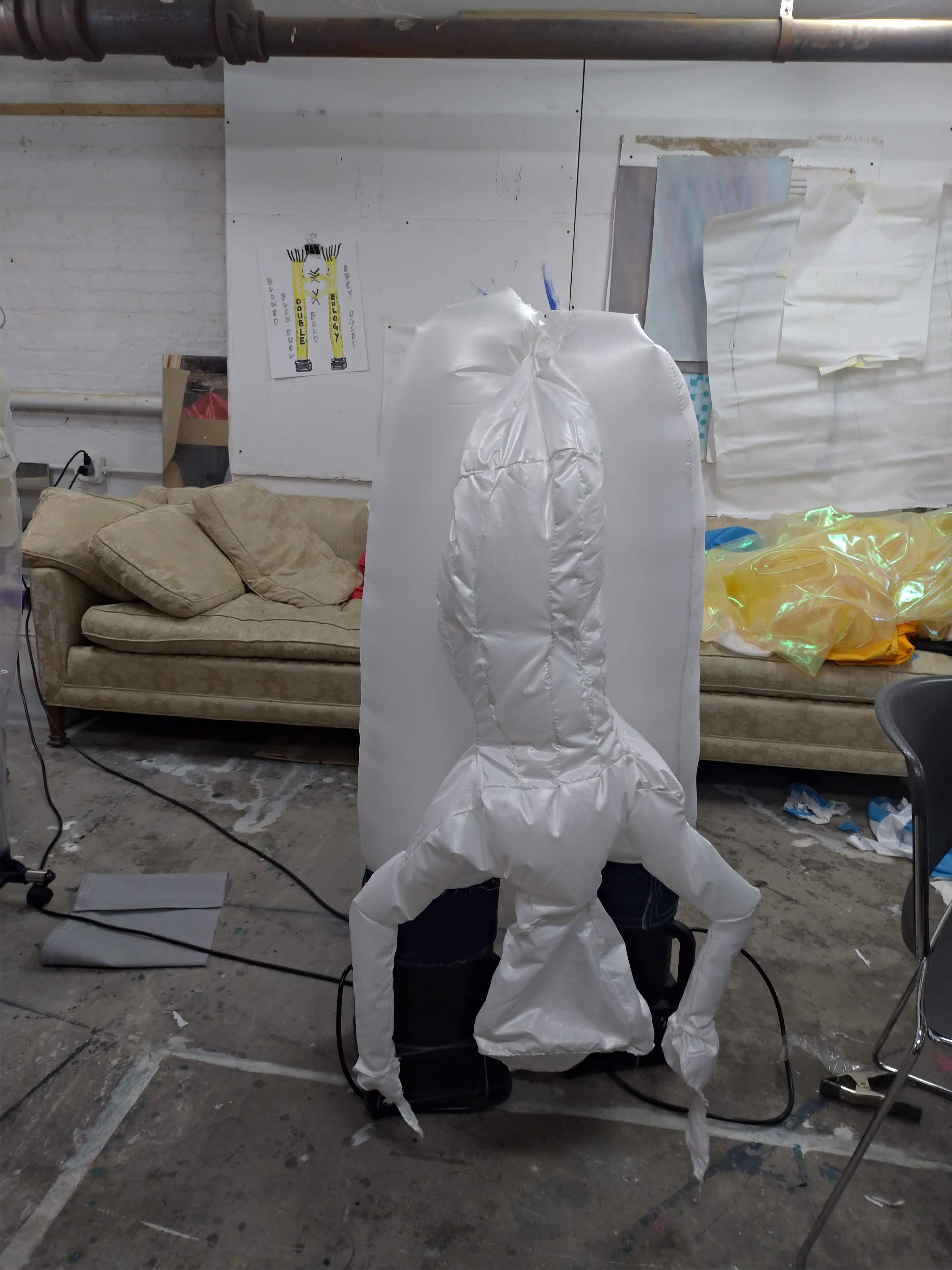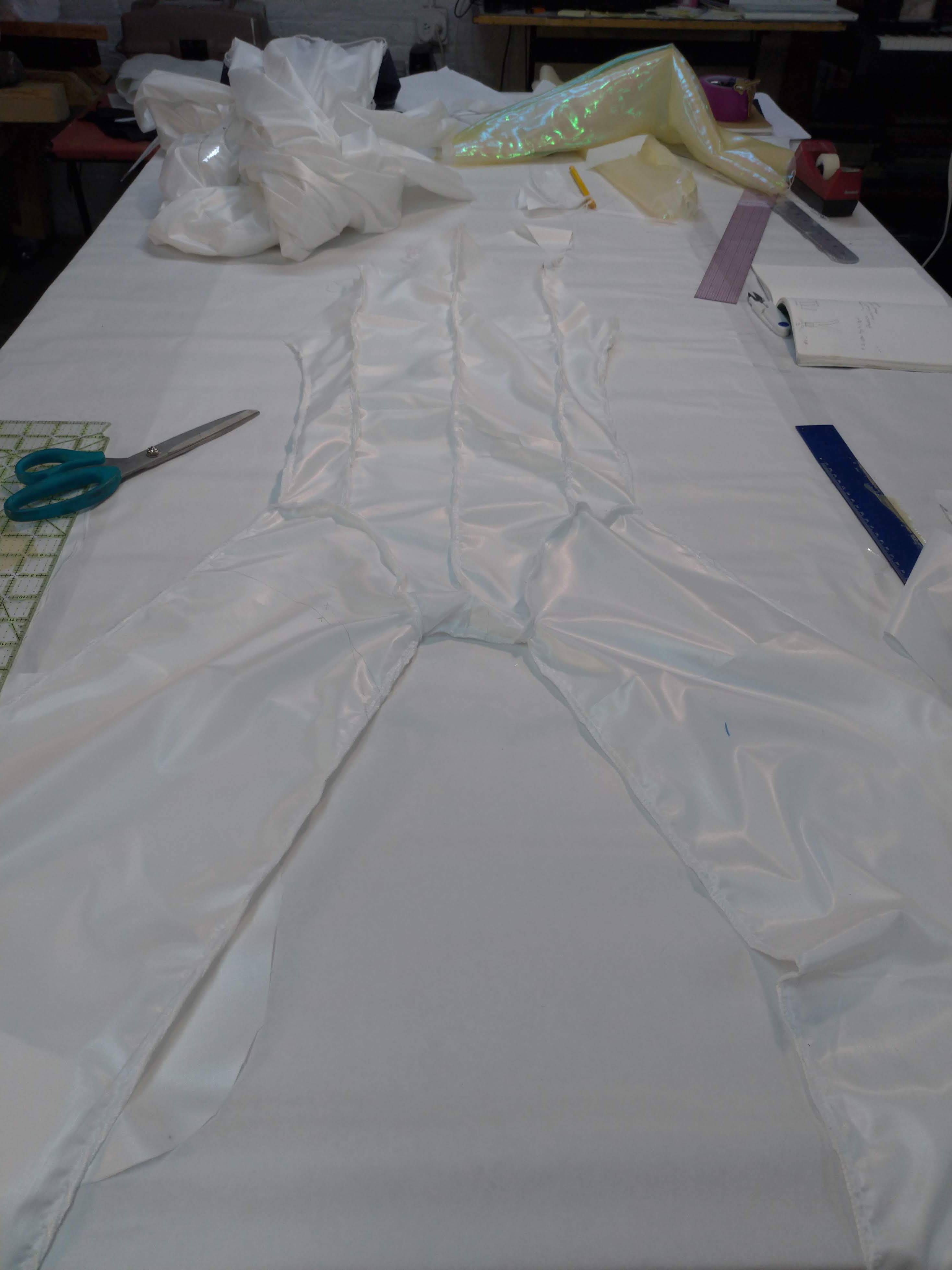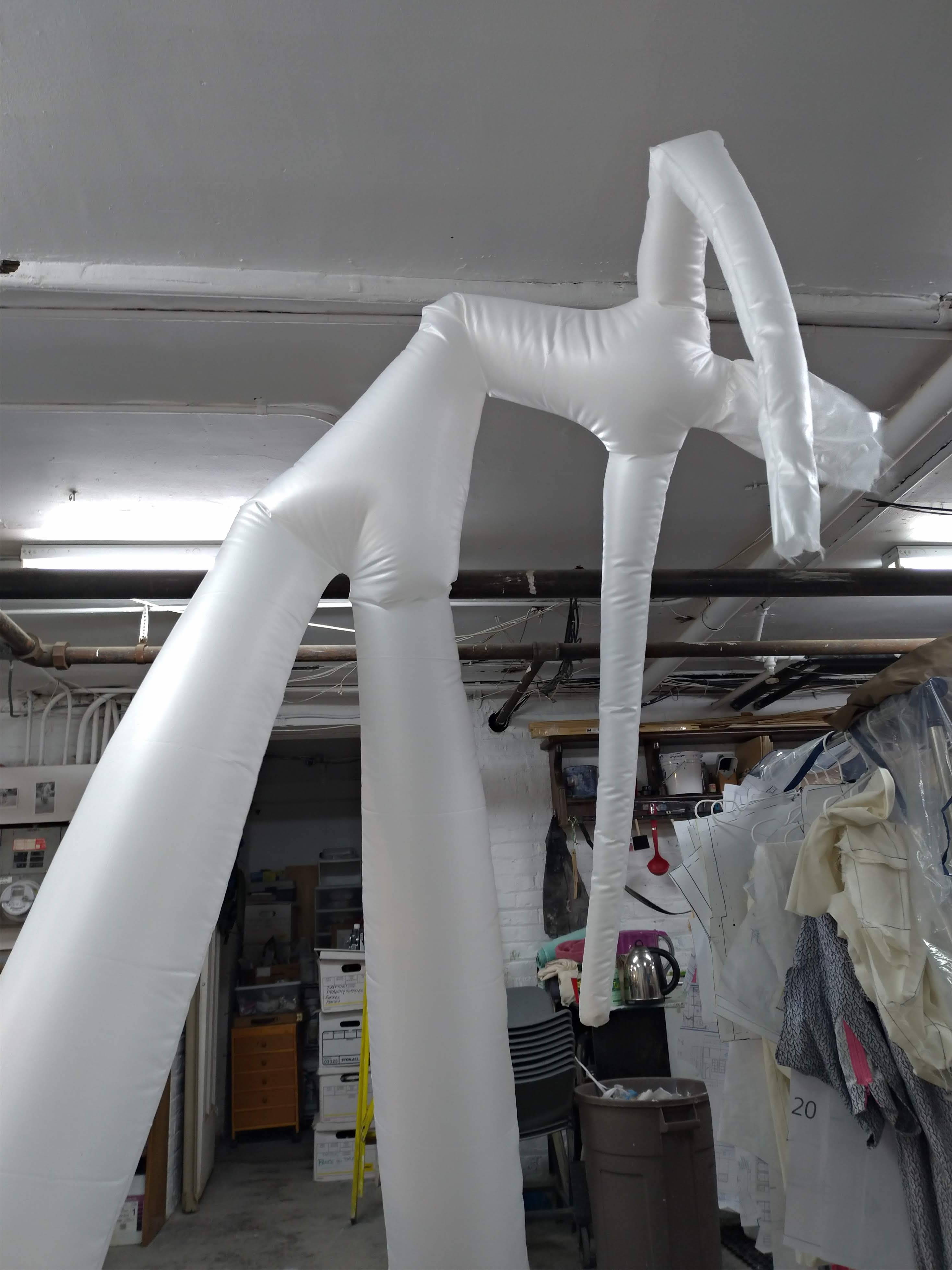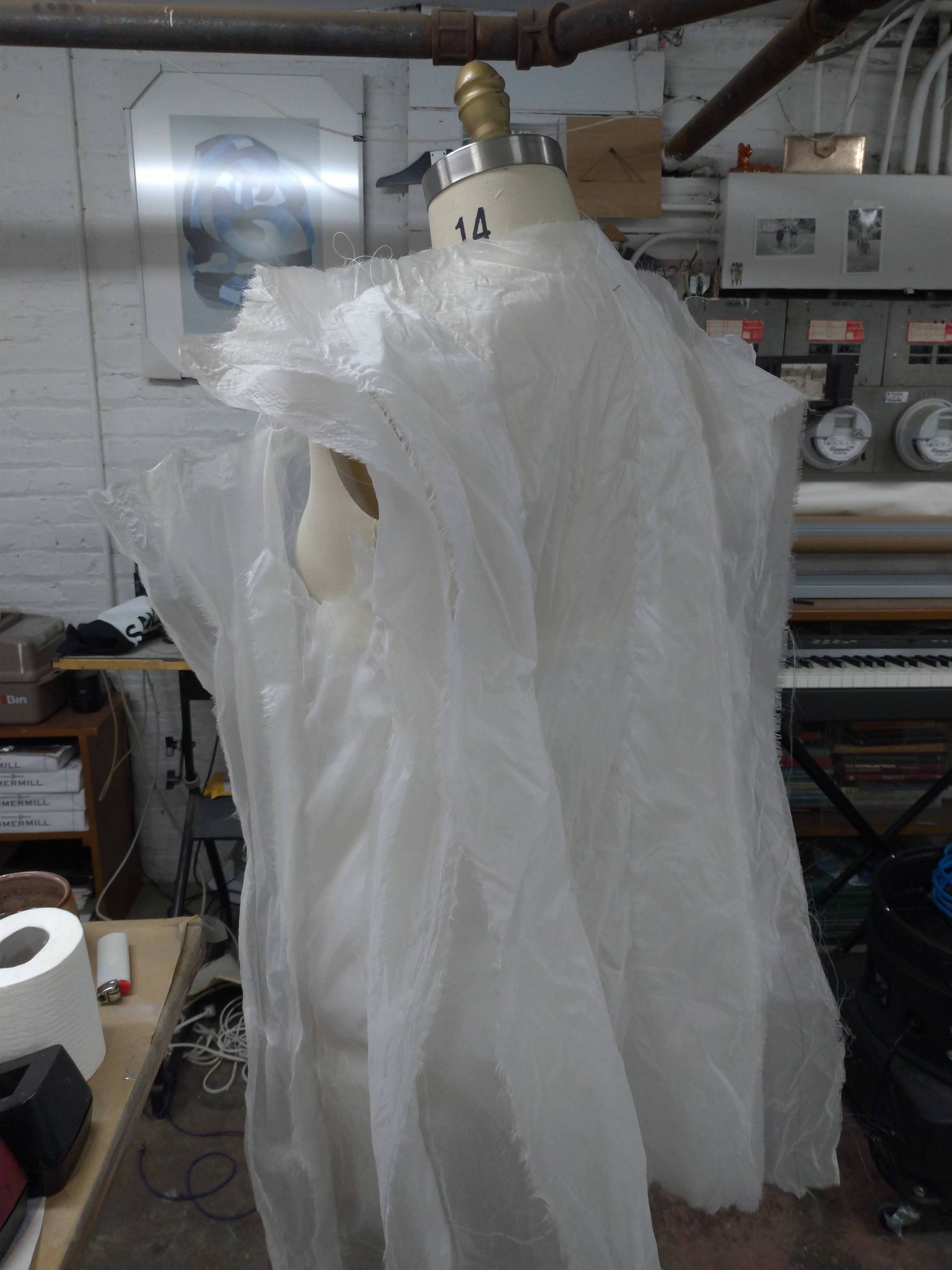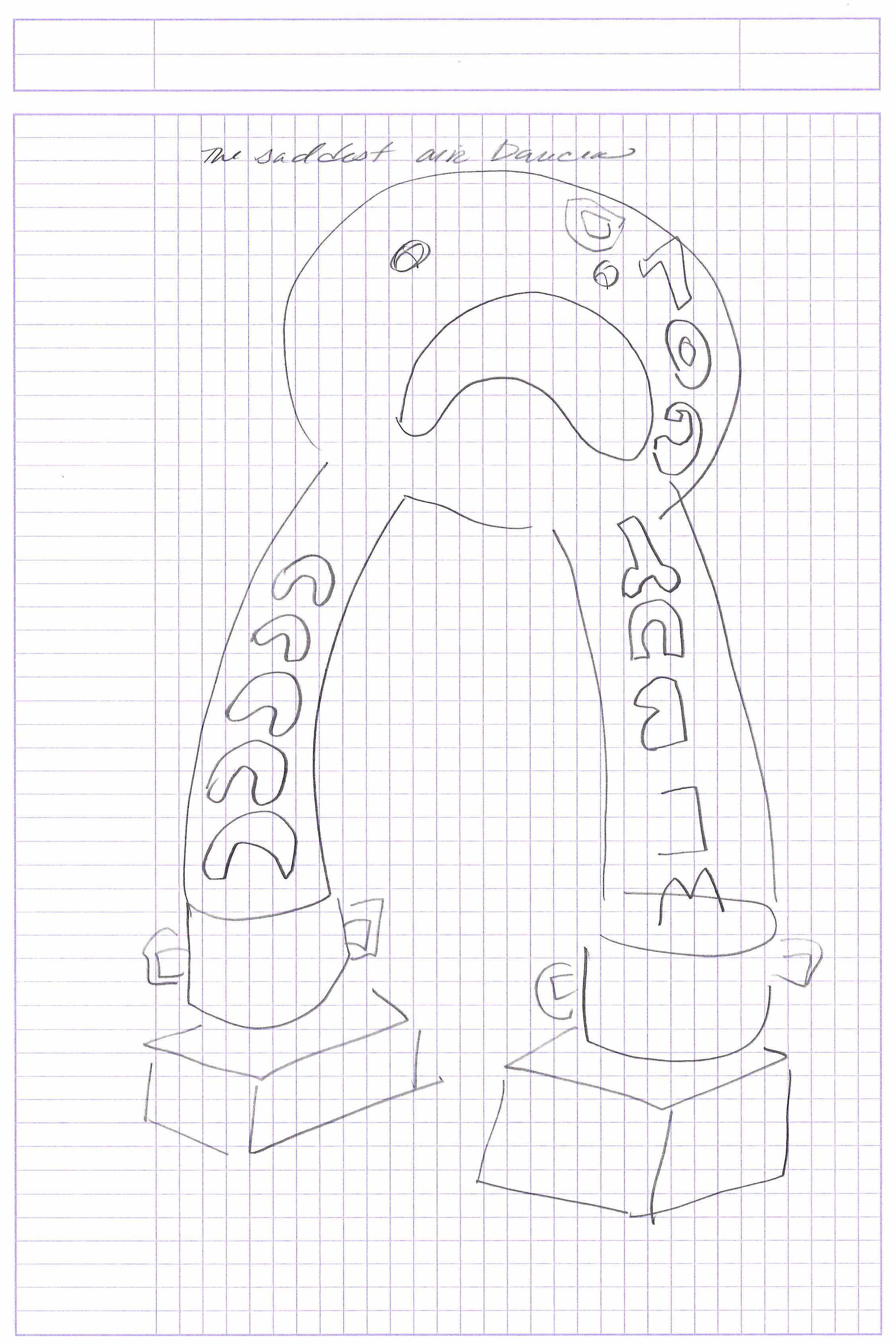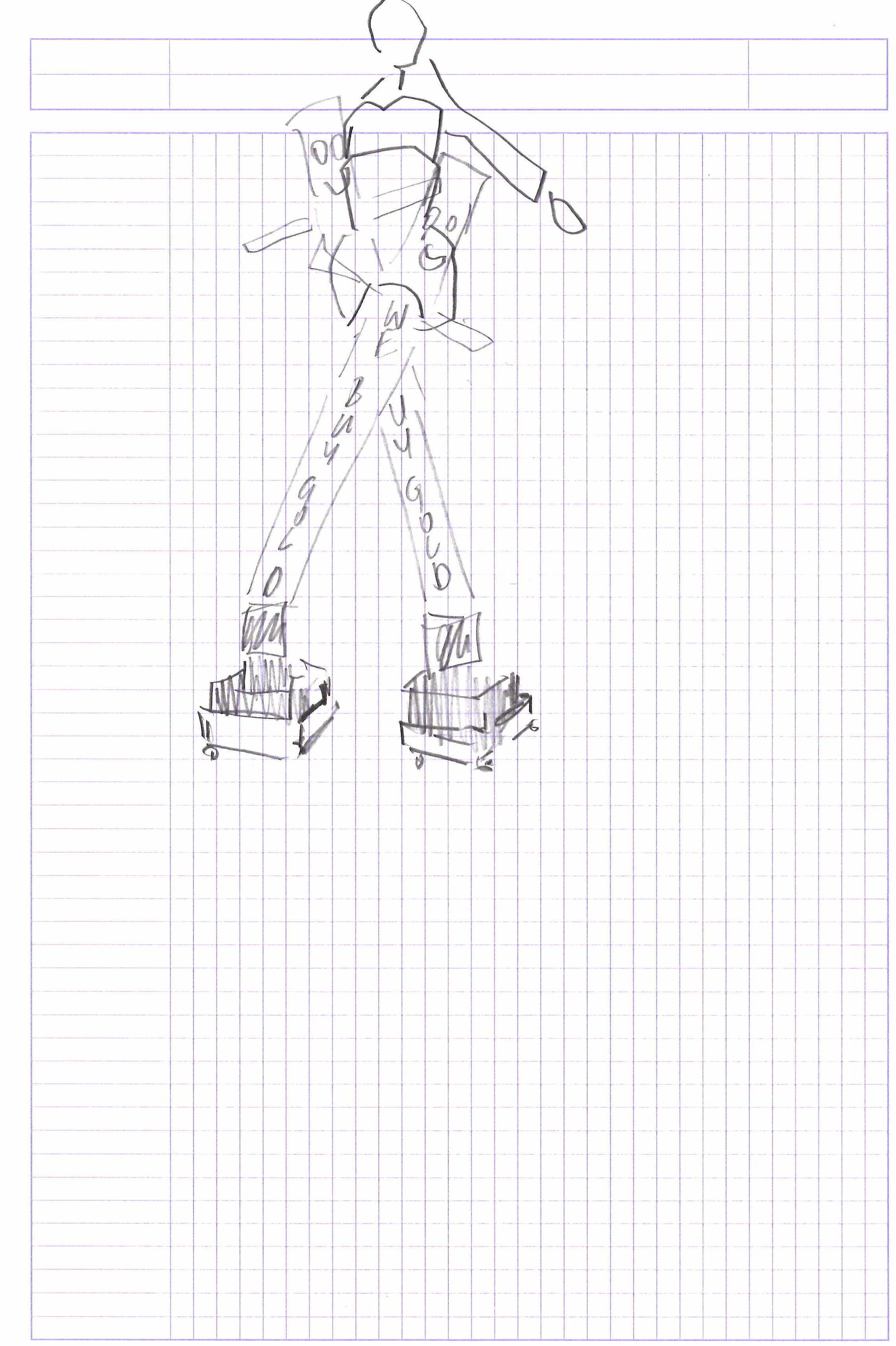 Solid Air
STNDRD, 2018, Granite City, IL
Flag of reclaimed vintage china silk from color guard flags, thread, rope, flagpole
dimensions variable up to 12' long
Performance with ritual text by
Gwyneth Zelany Anderson
& movement by Gwyneth Zelany Anderson, Amanda Bowles, Andrea Freeman, Rachel Hermann, Amelia Jones
Solid Air
is imbued with the actions and words of a ritual that manifests energetic transformation. Change is continual, yet transformation can be witnessed through observance of tangible residue such as the shedding of a snakeskin or the ephemeral setting of the sun. Pieces of china silk, once used as marching band flags, re-configured with dressmaking techniques become ritual objects in this evocative spectacle.
Six streamers, each double the length of the STNDRD flagpole wrap six women who are the instruments of change. The women help each other shed their wrappings and attach them to bamboo sticks for a parade down the street in Granite City, passing by a crowd that is participating in another transformation ritual as artist Cam Fuller invites others to demolish his undrivable truck with a sledgehammer.
The percussion of the busted metal propells the momentum of the spectacle which continues down the block to the site of the STNDRD flagpole. The movements of the women propel the streamers through the air and the site is filled with color and form and the intention of energetic transformation. The streamers are then attached to the flagpole and the women stand at the foot of the pole, holding the flags in the air and they perform Gwyneth Zeleny Anderson's call-and-response text in which they invoke active listening to the sounds of the space around them: the sound of the air, the sound of the earth below them, the sound of those in this world who are yearning for change.
The pole is wrapped clockwise as the women walk through tall grasses and wildflowers surrounding the pole, and another text is spoken before the pole is unwrapped. This unwrapping is not easy, as the group of women struggle to remove part of the fabric which has become snagged on the flagpole hardware. This struggle continues while the women hiss like snakes in mutual encouragement before managing to unravel the fabric once again so it can be bundled loosley and tied together, symbolizing unity and left to blow in the wind for two months as a reminder of the work we must do together to bring about desired change.

Antecedent
Ignition Projects, 2018, Chicago, IL

The realm of merging forces. Potential energy. Infinity meets chaos.
Constancy, expectancy, inevitability.
Energetic potency. Windbags and wishes.
Inflation, suspension, grace.
Inflation, suspension, fall from grace.
Force of grace.
The seed of this section of my ongoing opera project is a painting that is part of a series investigating movement and joining.

I animate this image with inflatable sculptures. They are made from various nylon fabrics, some of them screen-printed. They may be handled gently, especially if the sculptures initiate an encounter, or if they are droopy and need an intervention.

The visiting audience is invited to make decisions about the experience through interactive control devices and costume changes. Participants are welcome to take with them a commemorative iron-on patch to enhance their personal wardrobe.

Video: Installation View, Ignition Projects, 2018
Botanical
series
Color-infused interpretations of botanical drawings using traditional backdrop painting techniques.

fan palm, filifera & monstera, dry pigment acrylic paint on muslin, 86"h x 72"w (SOLD)


palm & monstera, dry pigment acrylic paint on muslin, 42"h x 92"w


houseplant cobalt, dry pigment acrylic paint on muslin,
42"h x 55"w

houseplant lavender, dry pigment acrylic paint on muslin,
42"h x 55"w

filifera & fan palm, dry pigment acrylic paint on muslin,
42"h x 30"w

diffenbachia, flashe & dry pigment acrylic paint on muslin,
42"h x 30"w


palms, flashe & dry pigment acrylic paint on muslin, 42"h x 55"w
Antecedent series
2018
Movement inspired designs exploring gradient and internal space.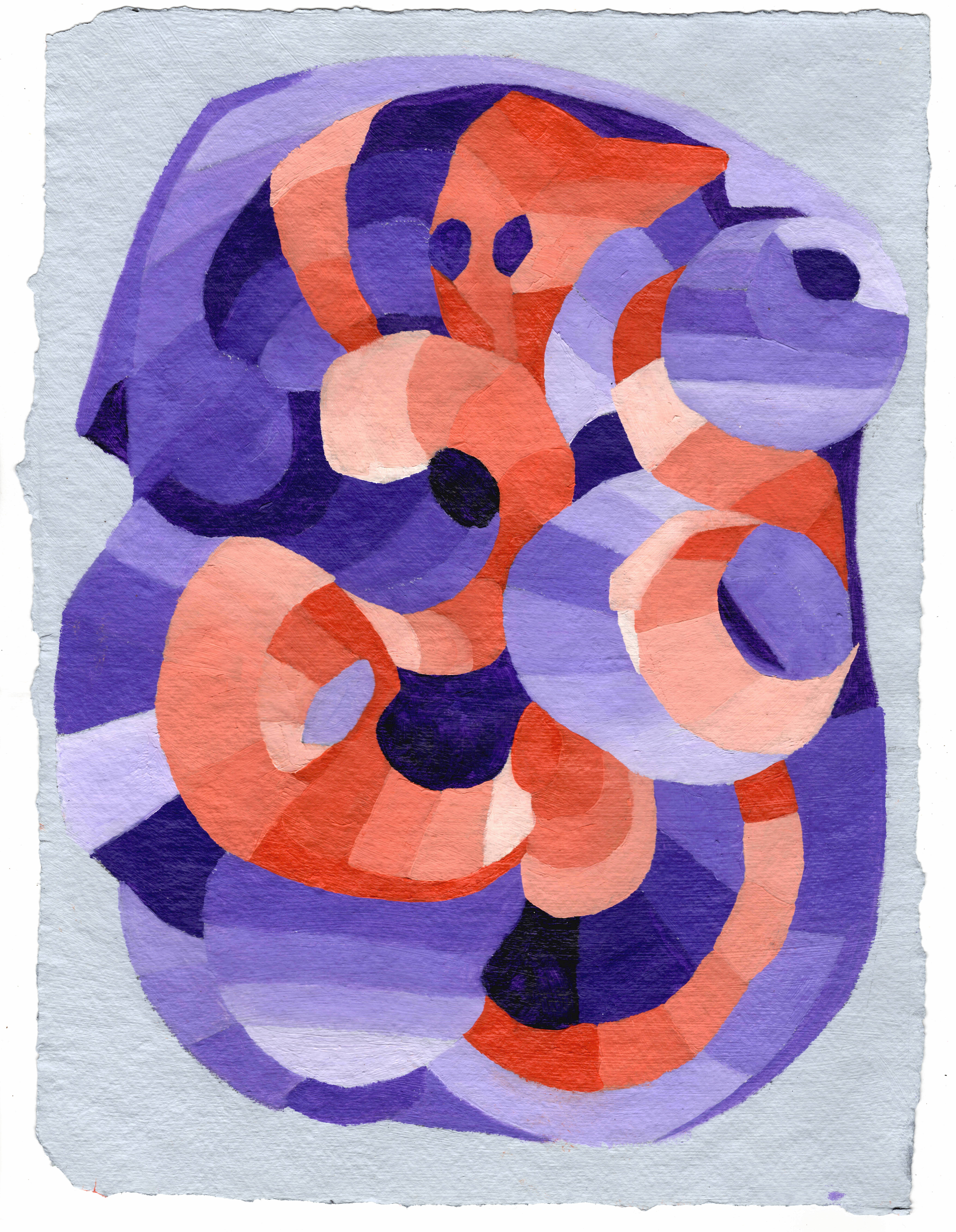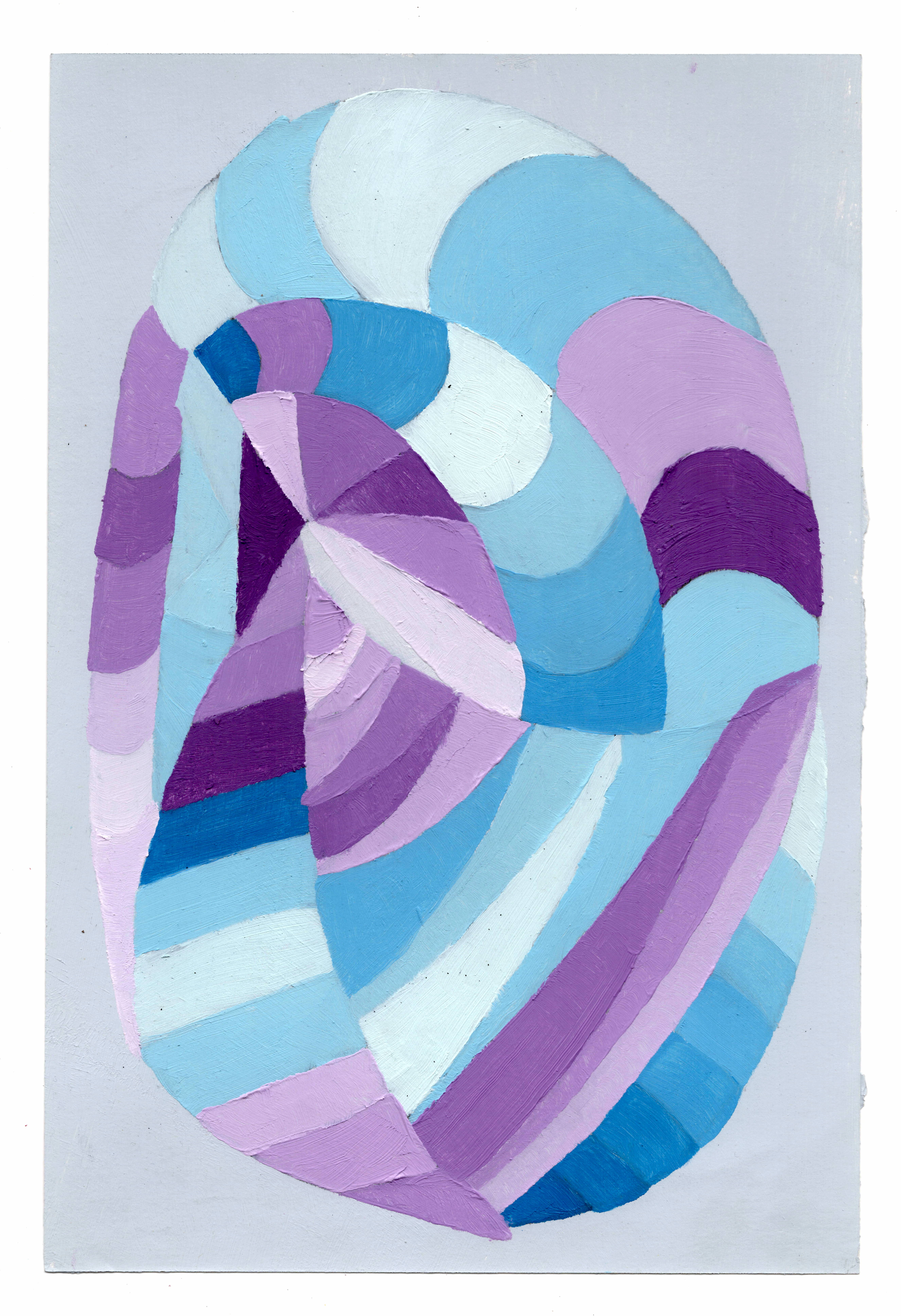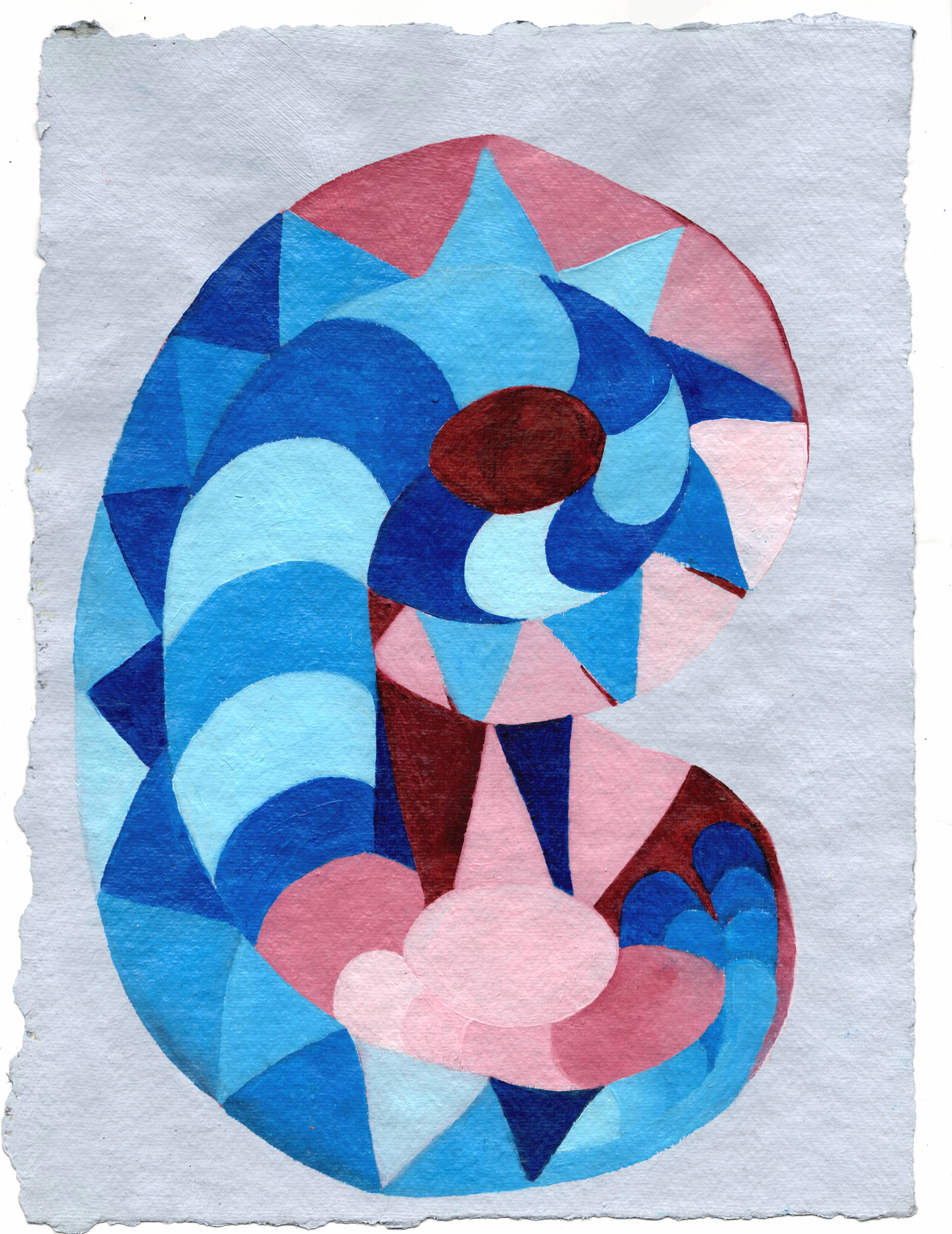 The Screen The Thing
by Justin Jones
Walker Art Center Momentum Series
Southern Theatre, Minneapolis

la brea
by Anna Shogren for Momentum Series
Walker Art Center/Southern Theatre, Minneapolis, MN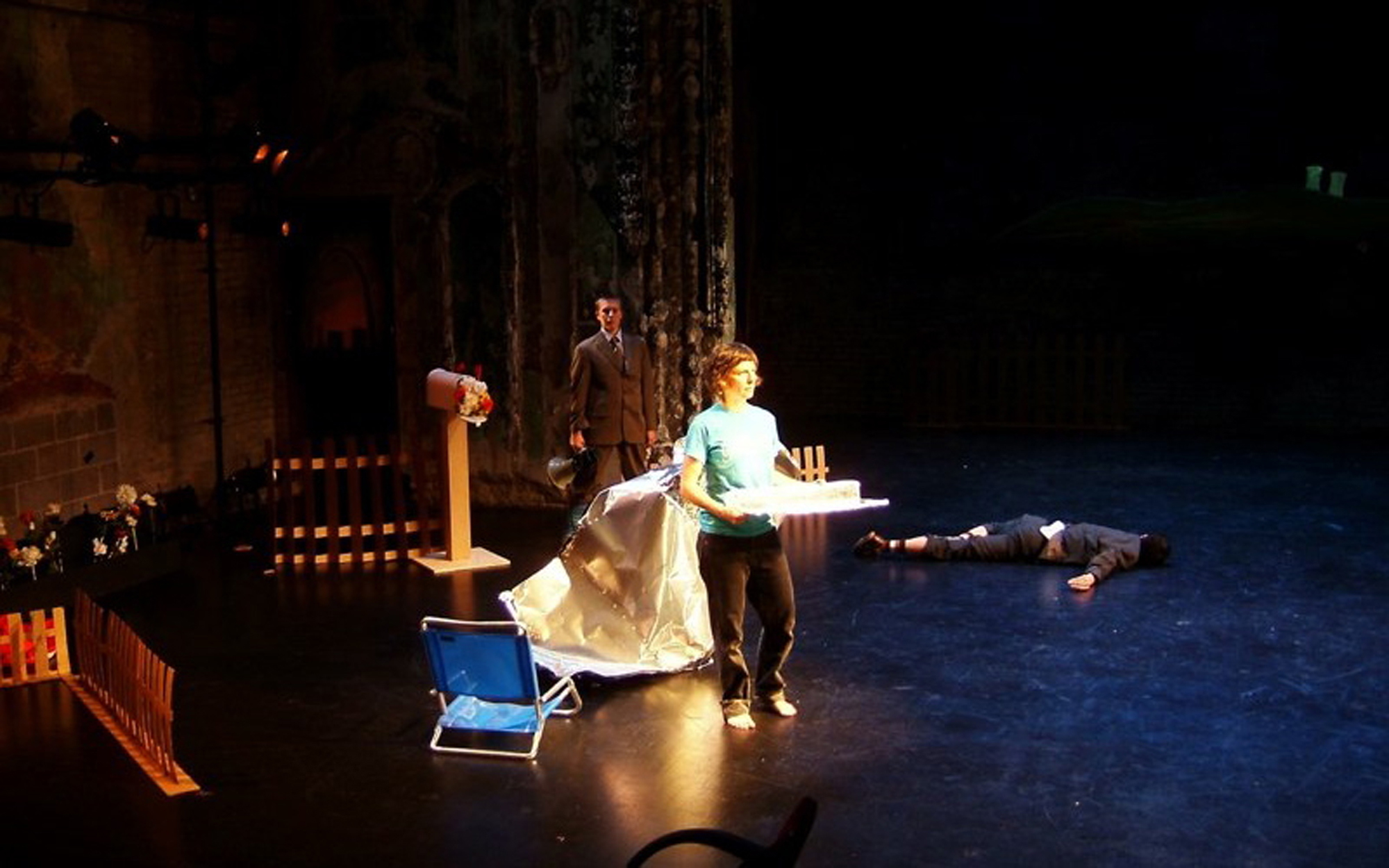 Tiny Town by Karen Sherman
Southern Theatre, Minneapolis
Walker Arts Center Momentum Series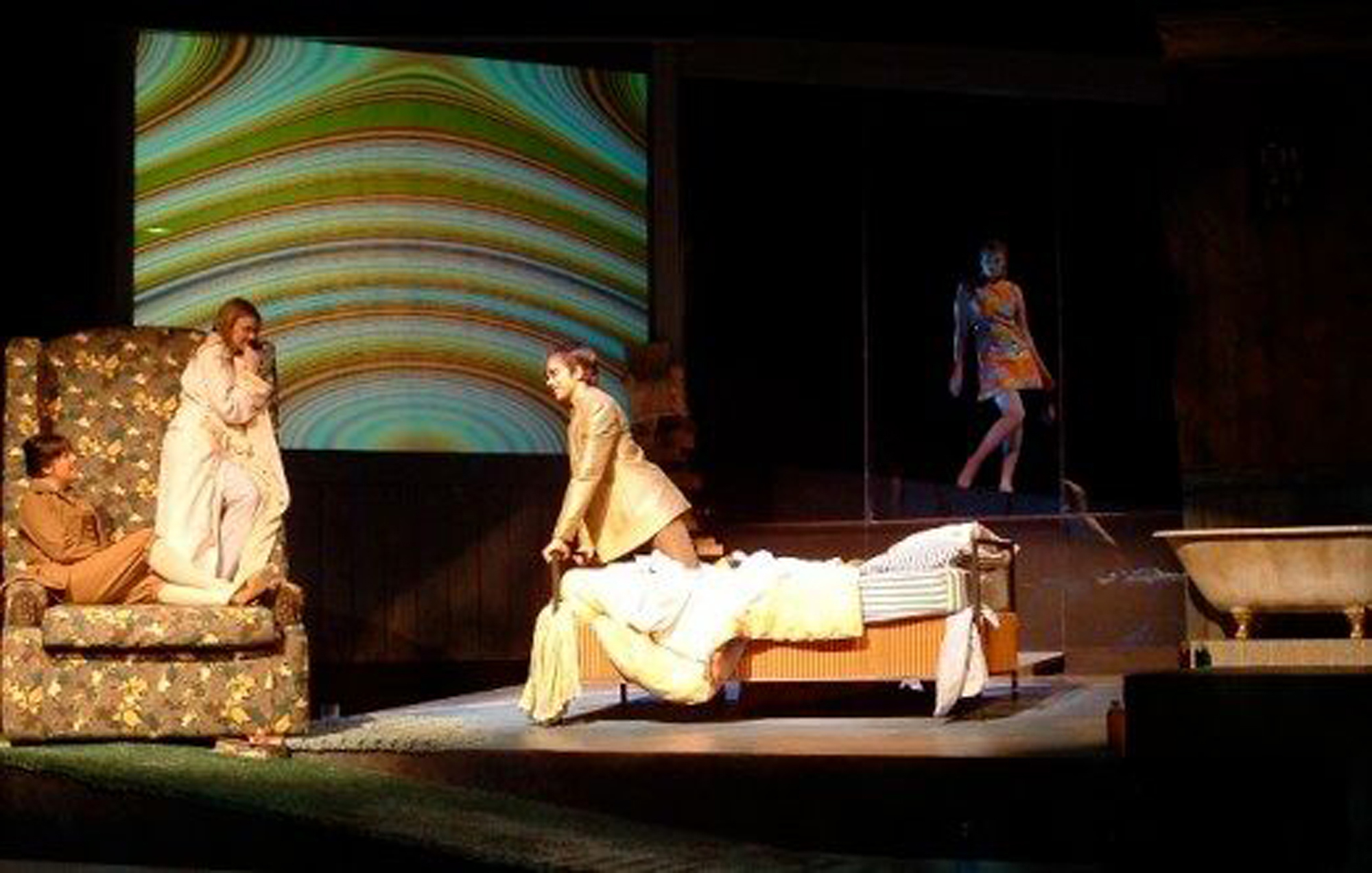 Aunt Dan and Lemon

Hamline University Theatre, St. Paul
Directed by Jeff Turner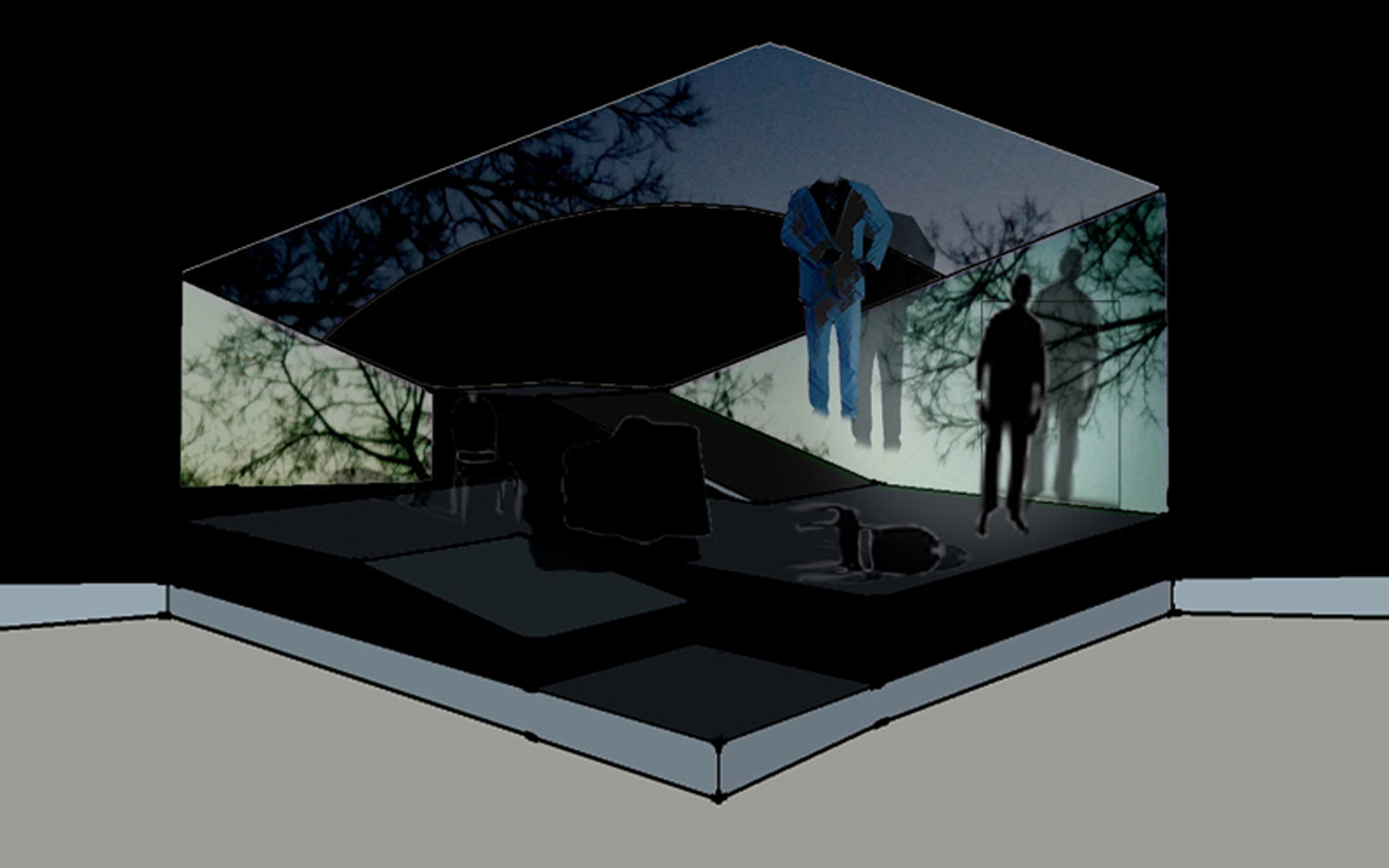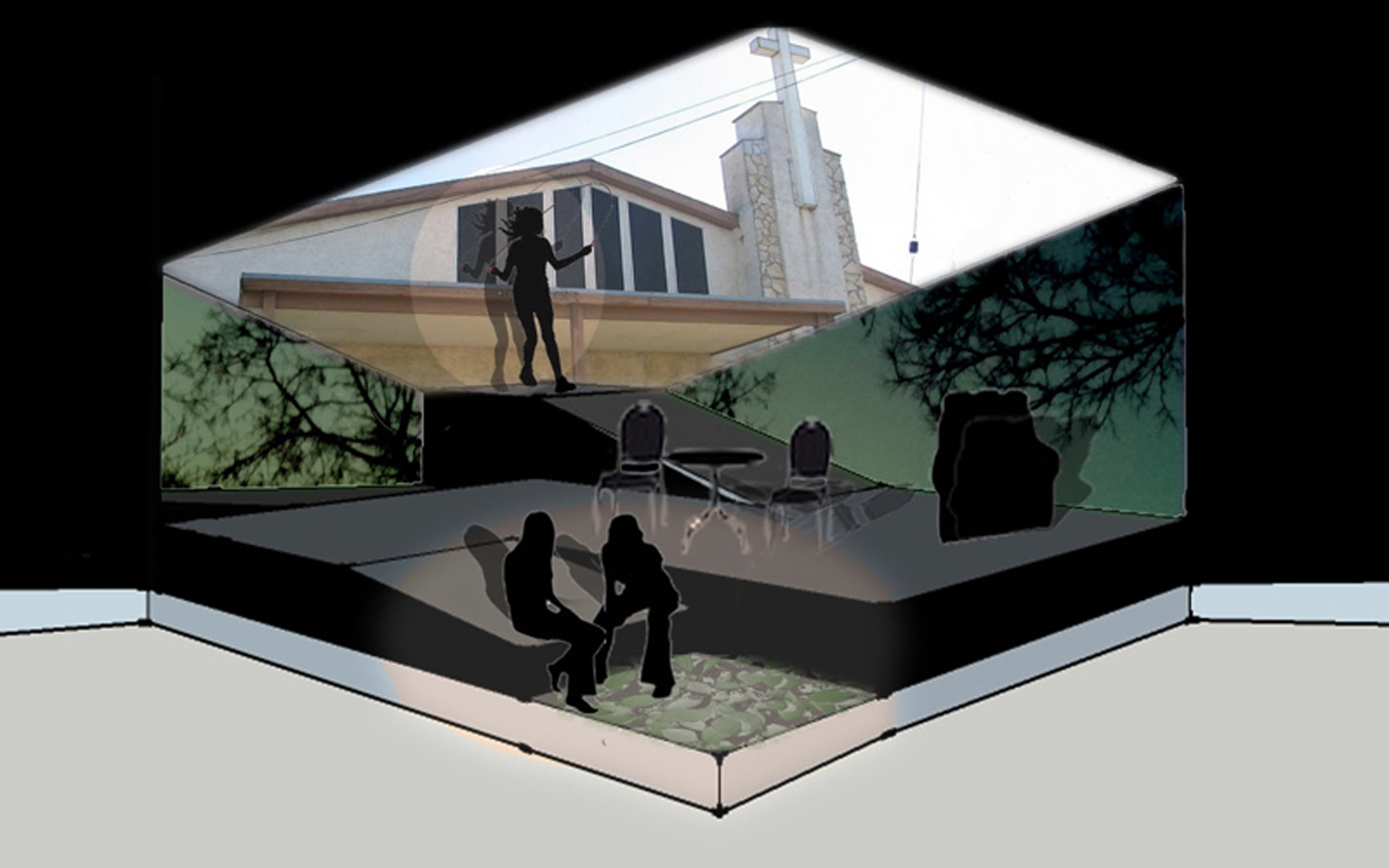 Dance of the Holy Ghosts

by Marcus Gardly
Playwright's Center, Minneapolis
New Play Workshop
Directed by Dominic Taylor