Installation view, 6 air dancer inflatable sculptures, Abhalter Smith


ANTECEDENT
Ignition Projects
, Chicago, 2018
The realm of merging forces. Potential energy. Infinity meets chaos.
Constancy, expectancy, inevitability.
Energetic potency. Windbags and wishes.
Inflation, suspension, grace.
Inflation, suspension, fall from grace.
Force of grace.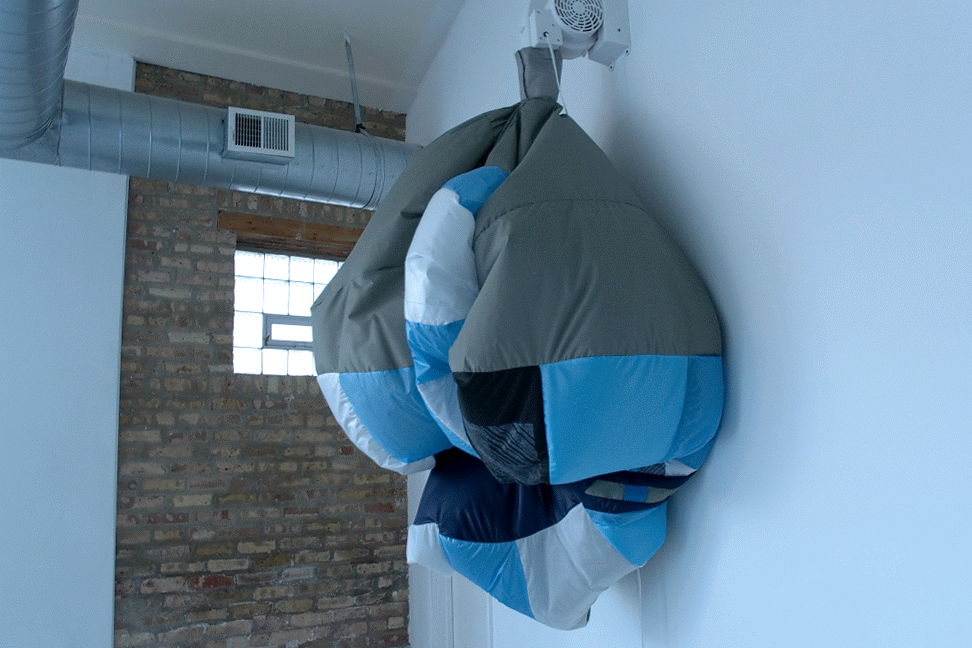 Installation view,
Air as Earth,
2018, image by Abhalter Smith
The seed of this section of my ongoing opera project is a painting that is part of a series investigating movement and joining.

Antecedent,12 x 16, oil on Arches,
framed 2018
I animate this image with inflatable sculptures. They are made from various nylon fabrics, some of them screen-printed. They may be handled gently, especially if the sculptures initiate an encounter, or if they are droopy and need an intervention.
The visiting audience is invited to make decisions about the experience through interactive control devices and costume changes. Participants are welcome to take with them a commemorative iron-on patch to enhance their personal wardrobe.

There are three main sonic compositions layering over the white-noise of several wind machines. The compositions include some periods of silence. The three loops are described by the audio designer as a drone, an aria, and a symphony.
Drone: composed by audio designer and musician
Corey Smith
with Suburban Piano Quartet
Aria: samples from the album Audacity Twists by
Charles Joseph Smith
Symphony: samples from Mr. Forefinger & Creative Toys of Mine by Charles Joseph Smith, including audio improvisations by Corey Smith
The sculptures and speakers are activated by remote controls that are available for the audience to create their own experience of the piece.

Remote controls for sculpture and sound

EKSTASIS
DEMO Project
, Springfield, IL 2017
Grounds & Back Gallery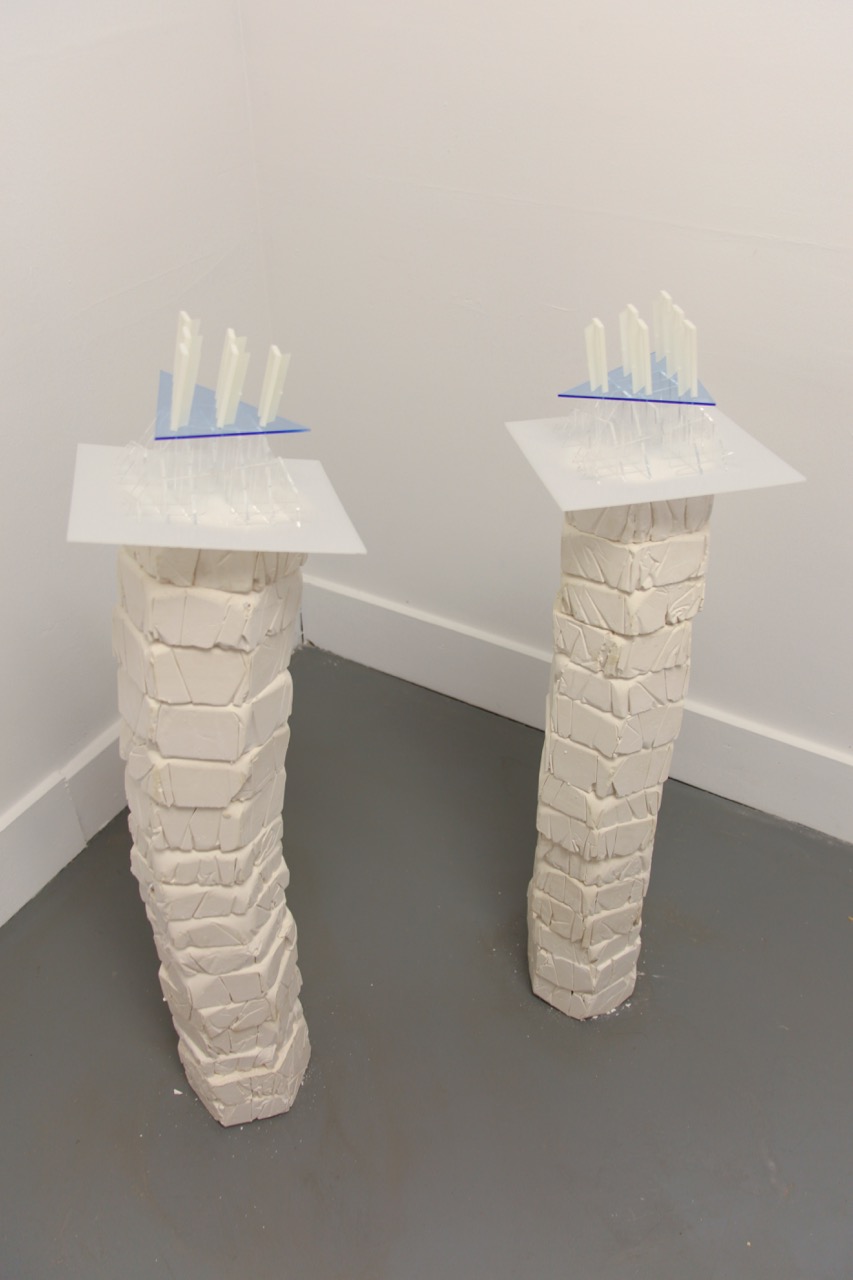 Ecstasy (or ekstasis; from the Ancient Greek ἔκστασις, "to be or stand outside oneself, a removal to elsewhere" from ek- "out," and stasis "a stand, or a standoff of forces") is a term used in Ancient Greek, Christian and Existential philosophy.
Source: Ecstasy (philosophy) - Wikipedia
Backyard:
Quiet Ekstasis: Pyramid Drawing
pine, windchime 9' x 9' x 6'-8" Remains of merged energies: Vessels
White: Ten of Wands
Brown: Two of Cups glazed ceramic variable dimensions
Backyard and Porch
:
Ekstasis: Air Dancers
Blue: Resilience (Ten of Swords)
Red: Fury (Volcano)
Green: Peace (Moss)
Yellow: Butter (Sustenance)
Magenta: Delight (Aurora Borealis)
various fabrics, velcro, fan, cord, electricity variable dimensions
Inside back gallery:
Meditation: Pyramid Painting
oil paint on discarded panel 29" x 29"
Meditation: Freedom of Motion
Acrylic, 3D printed frosted ultra detail material, plaster variable dimensions
Meditation: Sound Spirit
Keyboard, electricity, mannequin parts, fabric, wood, cardboard, tape, thread variable dimensions
A reflection of real and imagined landscape through distillations of form. A collection of visions condensed into single viewpoints with exaggerations and distortions. When imagining too far into the future can lead to hopeless thoughts, a solution to desparation can be found in focusing directly on one object or one moment in the present
:
MYOPIA

For The Thundercloud Generation Project Space Chicago, 2016
SIXES (OVERTURE)

SIM Residency, Iceland, 2015
Sculptures and paintings inspired by landscape and systems of organization, observations of auroras, icebergs, weavings, and phenomenology.